Church Painting & Plaster Repair
Egan Church Restoration's team of church renovation specialists offer the highest quality interior church painting and exterior church painting work. Large cathedrals or small country parishes, our team of church painters can repair and repaint your church. Unlike home or commercial work, many churches involve more complex architecture and the success of each project depends on understanding these differences. Our team follow "preservation" guidelines to maintain the original materials whenever possible.
Before any painting work can begin, plaster repair, especially any water damaged plaster, must be corrected. Our plaster repair experts follow all National Preservation Society guidelines for preserving the existing plaster, unless it simply cannot be saved. First we clean all simple cracks to remove any loose plaster, then fill the cracks. Large sections that are pulling away from the lathes are secured using screws and then skim coated. Lastly, if water damaged plaster needs to replace, we set a wire mesh screen to the lathes and then begin applying multiple layers of new plaster, allowing each layer to dry before the next application.
In addition to general painting work, we offer decorative painting like faux marble painting, or gold leaf work for your church or temple. Other decorative finishes like Stencil Patterns, rag roll or just simple "shading effect"s can all be created to enhance the worship experience. We have a liturgical designer who can assist you in choosing colors or help create a new look for your church.
Church Painting Services. Our Lady of Good Counsel Church. Manhattan, NY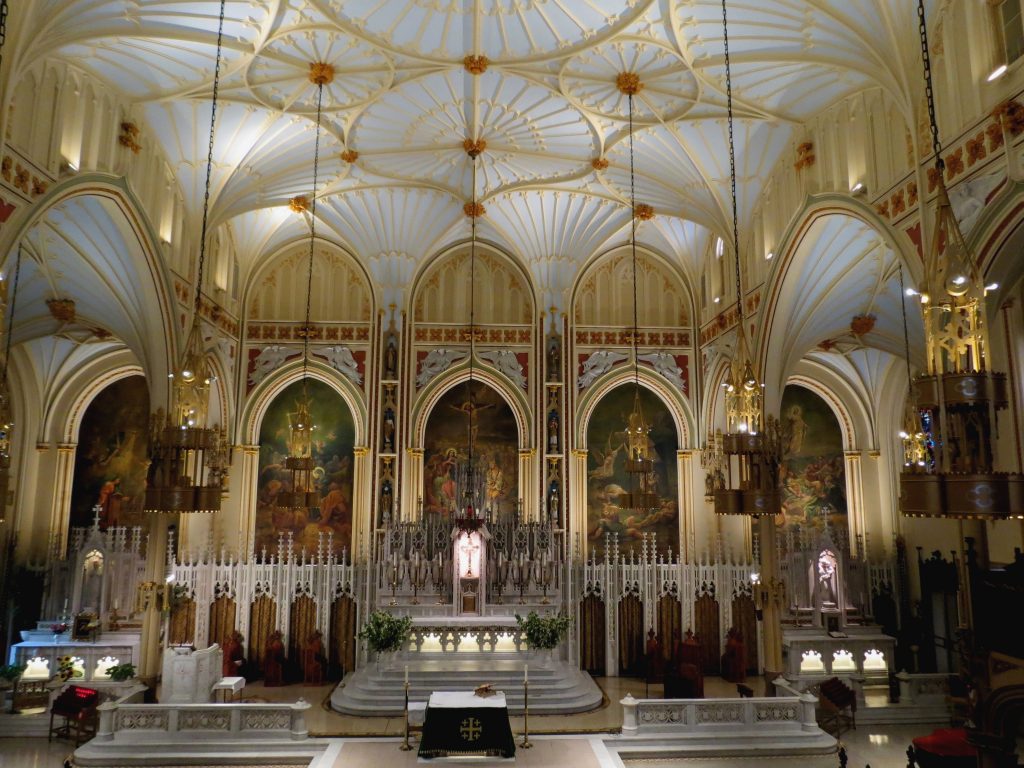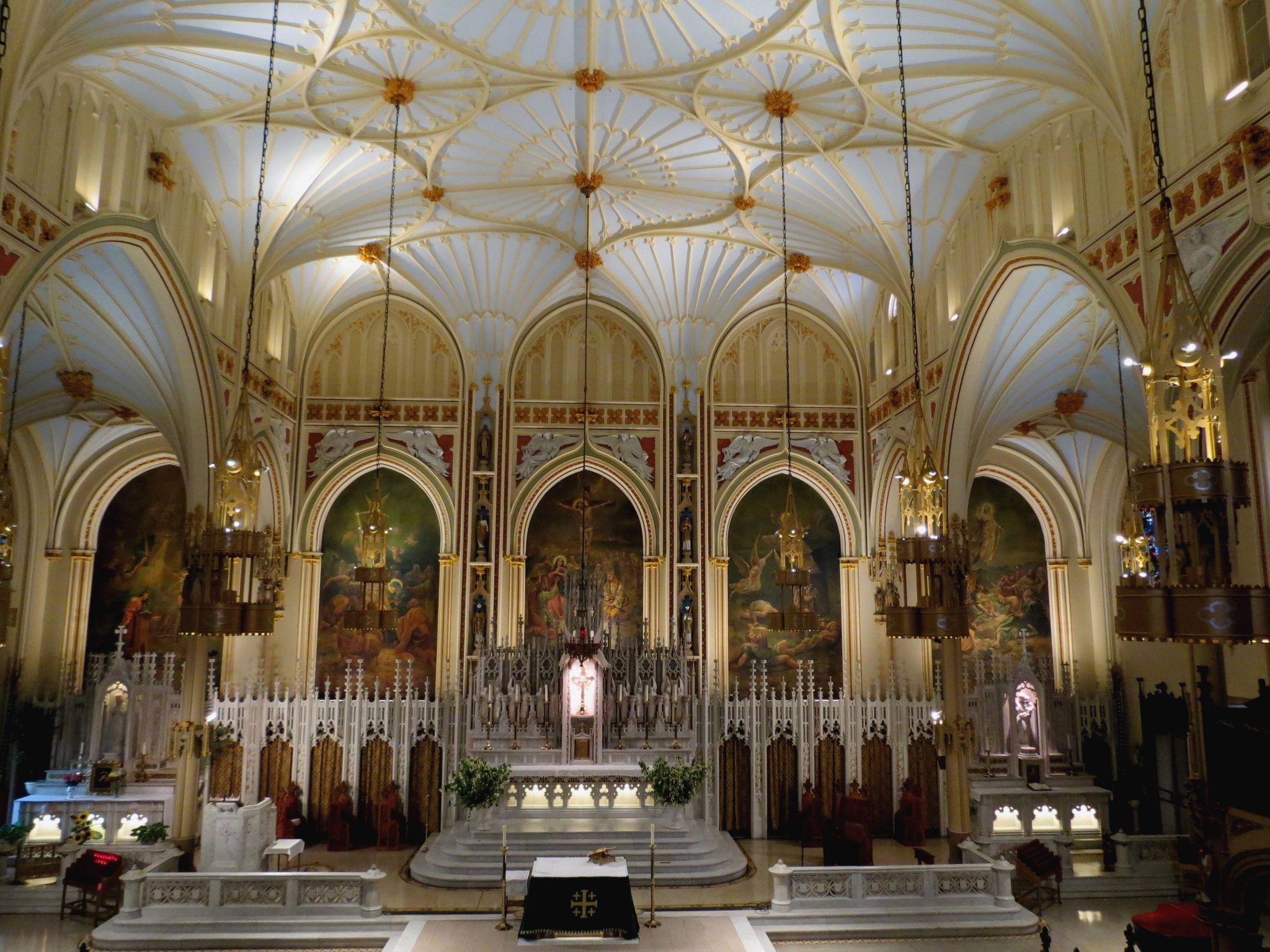 Egan's Church Restorations team of church painters and church plaster repair experts were hired to restore the interior of Our Lady of Good Counsel Church in Manhattan, NY. Our liturgical designer first met with the pastor and helped the parish building committee develop a complete new color scheme to help highlight all the beautiful architectural features. The photo below shows the sanctuary before, our artists began our work.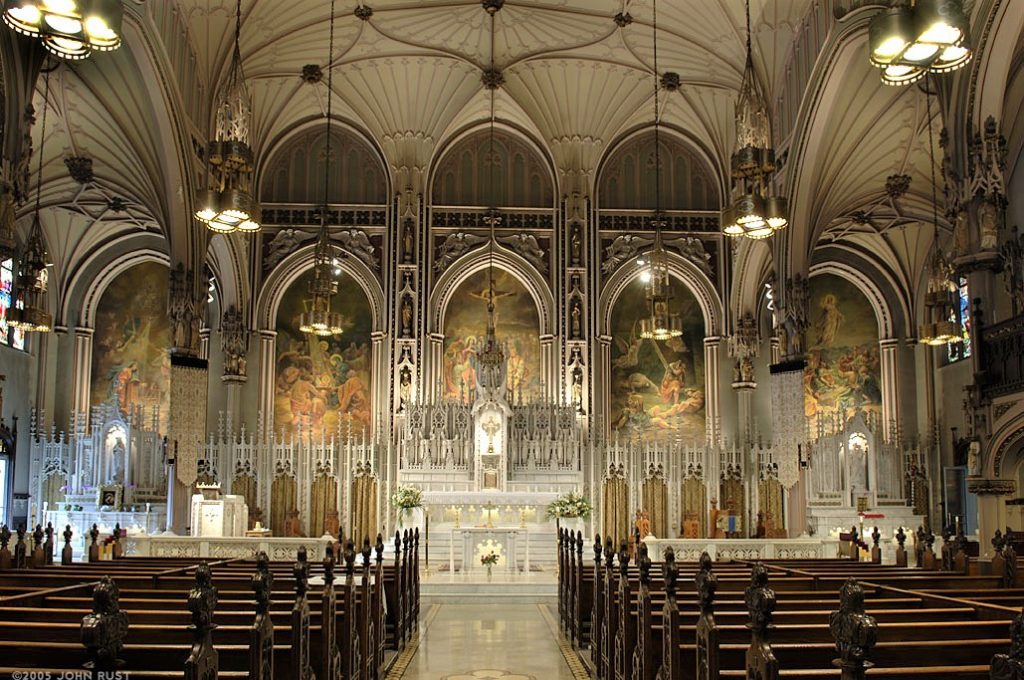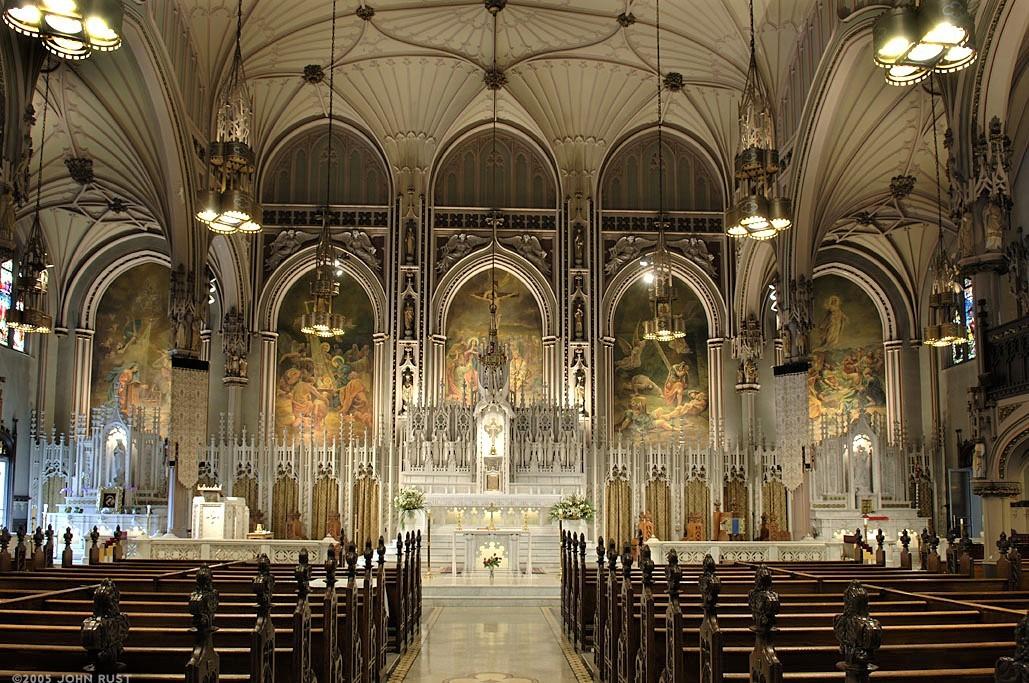 Side by side photos help demonstrate the dramatic changes we made with simple color changes and some highlights to various sections. Before. The upper walls had a light green base color and the ceiling a tan color. To help brighten up the entire church, we recommended changing the ceiling to a soft white color with the rosettes highlighted in gold. The white helps reflect the light from the light fixtures and made it easier to read the prayer books.


The green was replaced with multiple shades of cream. Using the 3 shades helped to compliment the colors in the murals below and highlight the architectural features.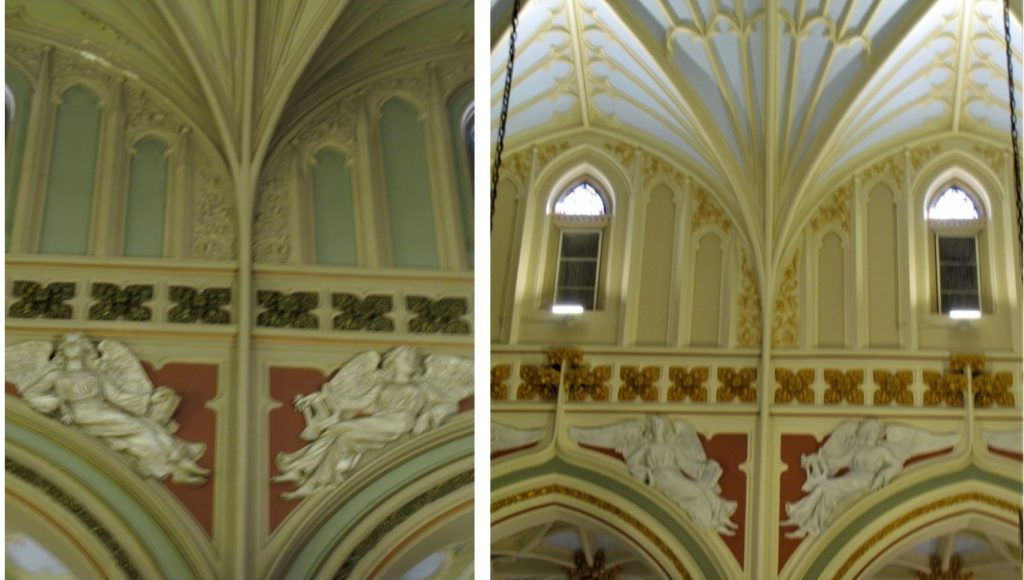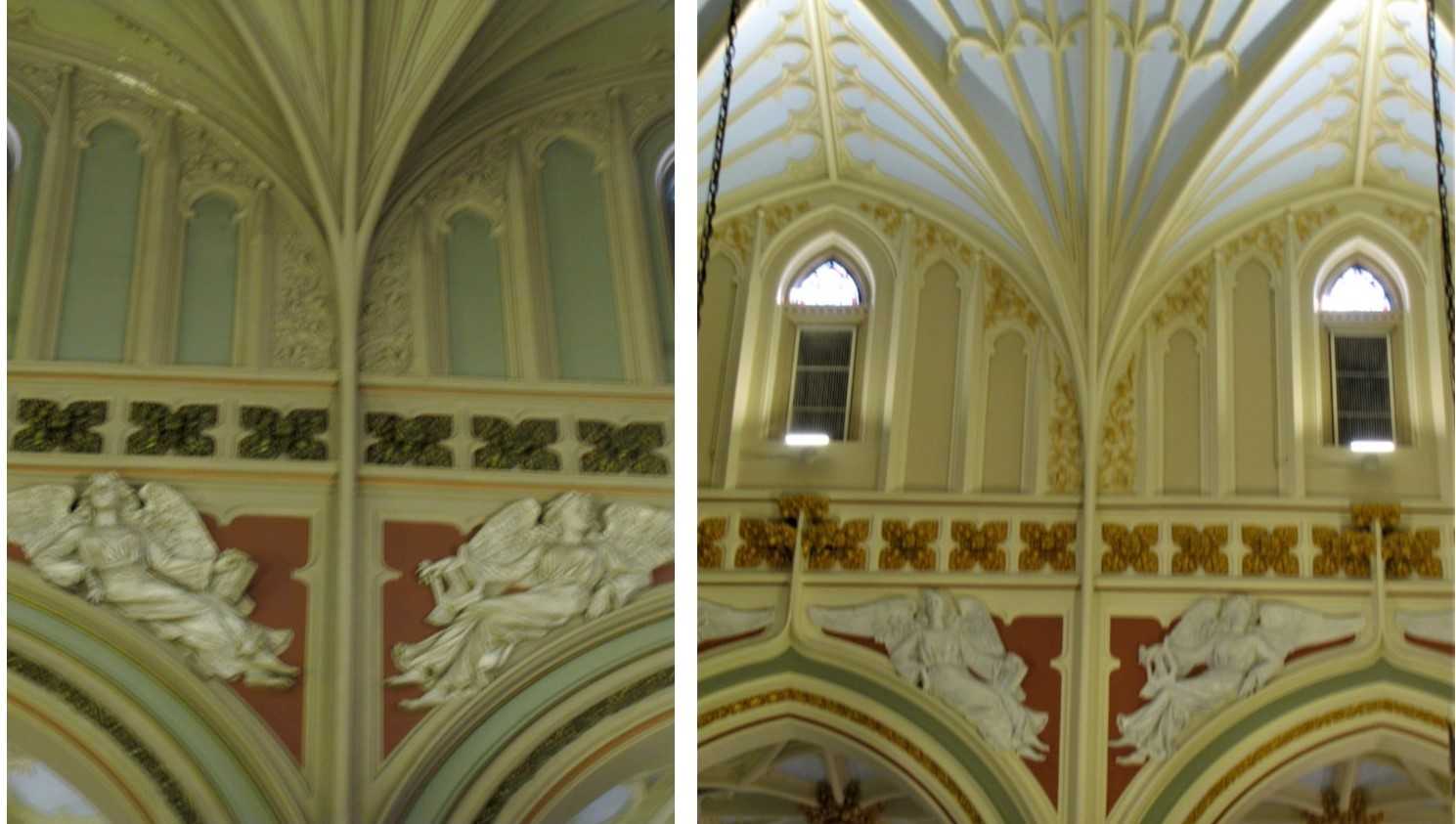 See gallery of other plaster repair and painting projects – below.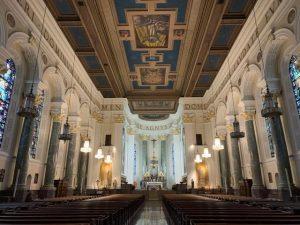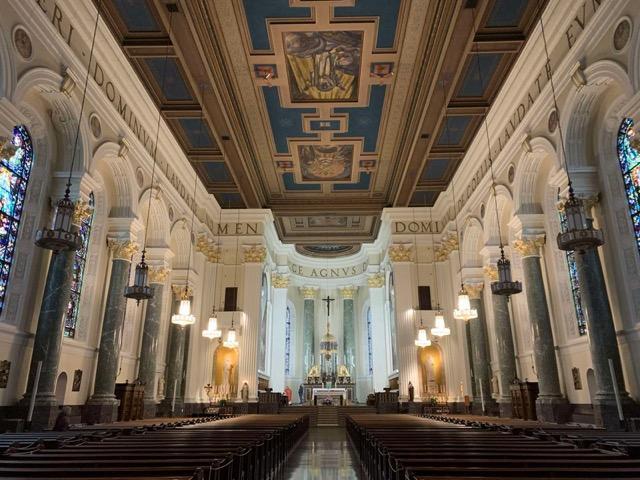 This is just one example of the high quality workmanship and design capability we have. Visit the following pages to see more examples of our high-quality decorative painting and historic plaster repair.
Contact us for free consultation. 800 484 1874 or email; [email protected]