Church Stained Glass Repair
*Church and non profit institutions only.
Church stained glass repair is a very complex process that needs true experts to undertake. Egan Church Restorations offer the highest quality church stained glass repair and preservation of historic stained glass. All our work is considered "Art Restoration" and the greatest care is taken to save all original glass and artwork, if possible to preserve your church legacy.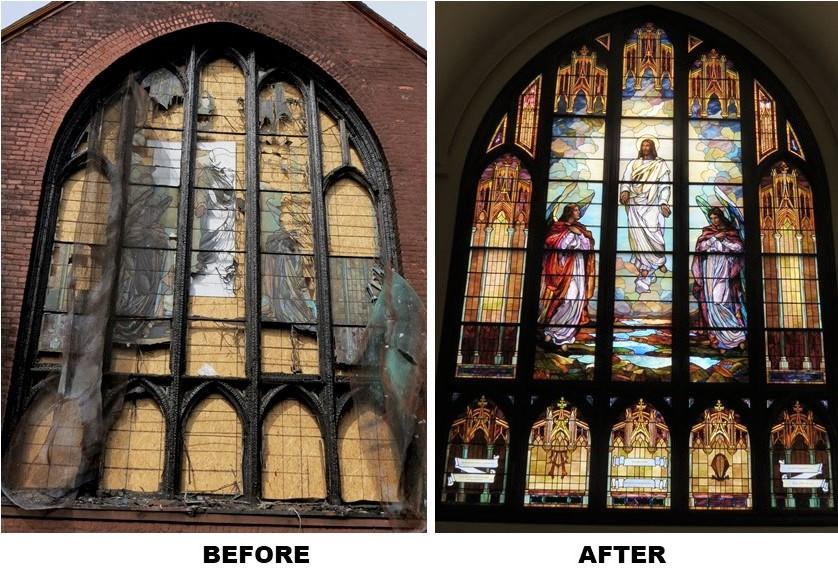 Why does Stained Glass Fail?
The simple answer is "old age" but the more detailed explanation is that the glazing cement and the lead came matrix deteriorate with expansion/ contraction cycles. Stained glass, like all building materials, expands and contracts with heat and cold cycles. Unlike clear glass in your home or office, colored stained glass absorbs heat and is then subject to expansion and contraction. The more sun they get, the greater the expansion of the glass. After decades of constant expansion and contraction, the lead matrix and the glazing cement simply break down and cannot hold the stained glass in place anymore.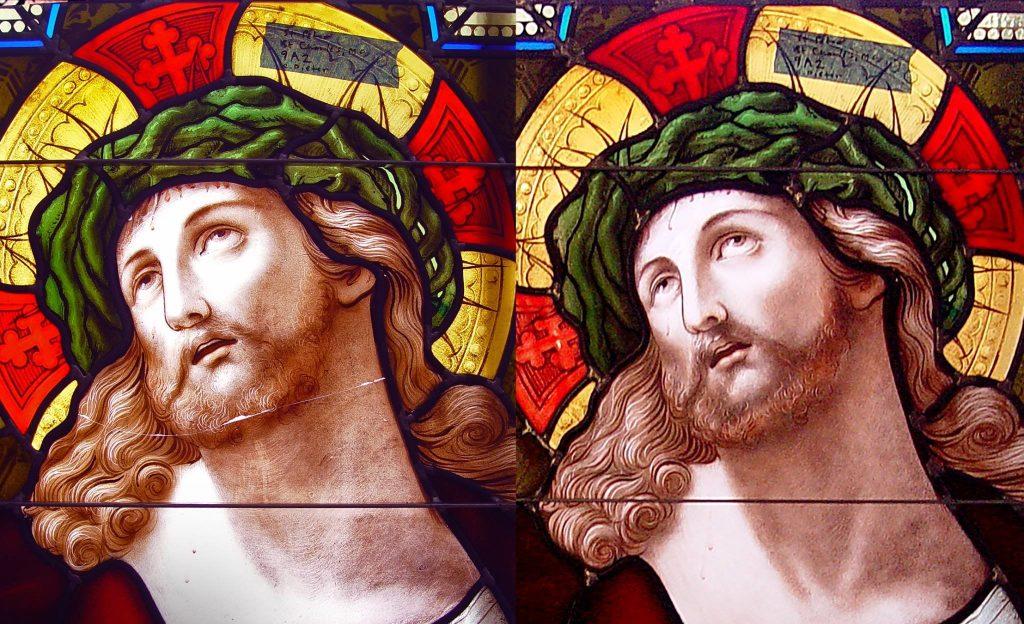 How to know when your windows need attention?
There are a number of types of warning signs that will let you know your windows are starting to have problems.
Old age. Look for any documentation of when your windows were fabricated and installed. Most windows have a normal "life span" of between 80 and 100 years. If your windows are in that range, you should assume they will be needing attention.
Bulges. When the lead matrix starts to fail, the lead and glazing cement do not have the strength to hold the windows firm. The window will then start to bulge. Minor bulges are not a concern, but large ones indicate releading is needed.
Cracks in the glass (see example in photo above). Glass cracks because it is under pressure. The pressure usually is created from the weak lead matrix and the overall weight of the glass presses on pieces below.
Gaps between the glass and lead. If you can see light between the glass and lead, it means the glazing cement that secures them together is failing.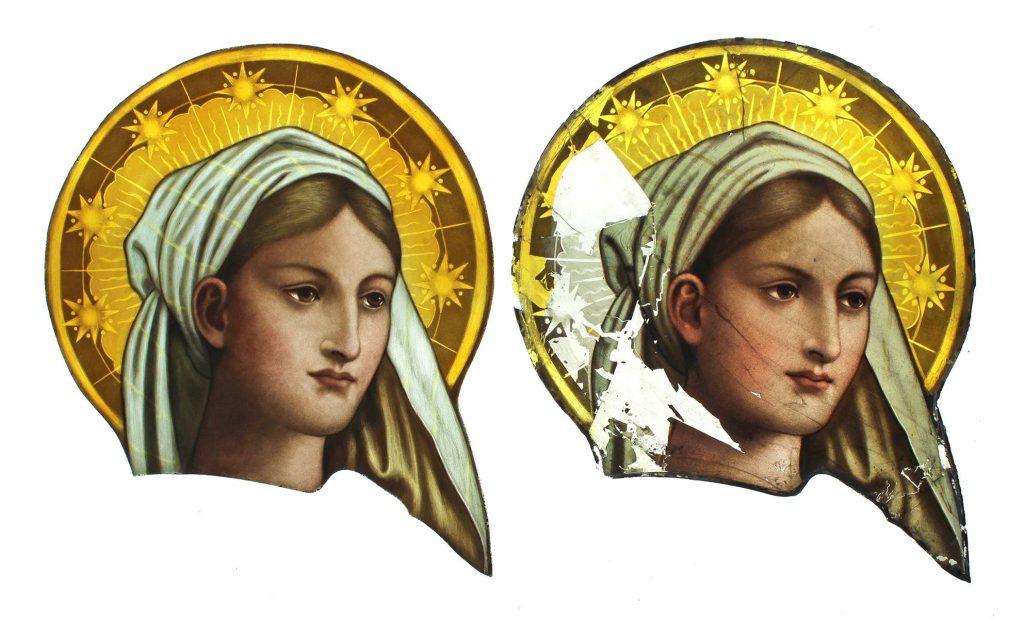 Egan Church Restorations offer Free, No obligation study of your windows to identify what, if anything is wrong.
Some window problems may be obvious but others may need a "trained eye" to properly identify. More importantly, our skilled stained glass person can review all your windows, inside and out, to help you plan a maintenance plan or to start a fundraiser for the needed repairs.
Bob Egan, the owner of Egan Church Restorations will be glad to set up an appointment with you or your property person to review your windows and help you plan for your church needs. Contact us, for a free consultation and free quote for any repairs that may be needed.
Stained Glass Protective Glass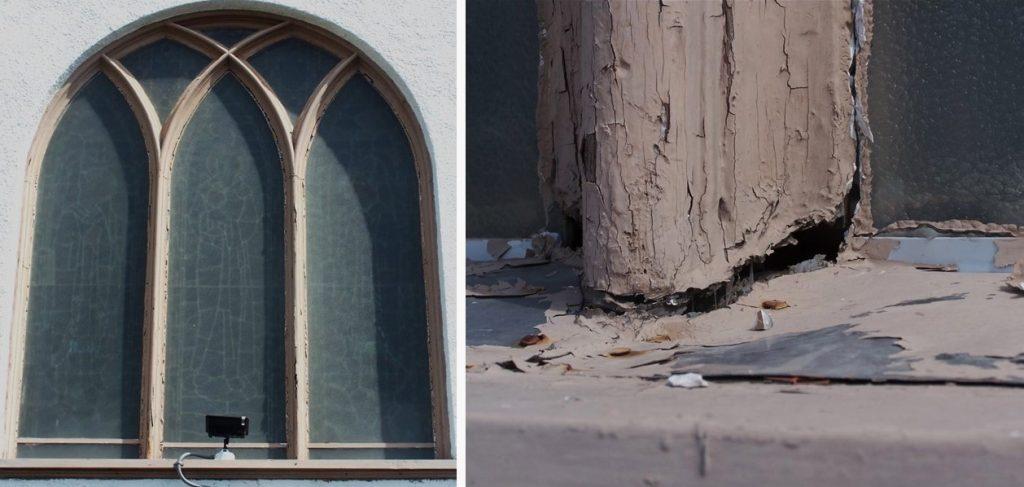 "More damage has been done to stained glass windows from poorly installed protective glass, than from all vandal, storm and fire damage combined". National Preservation Society Study 1996
If you have protective glass covering your windows that looks like the picture above, you almost certainly have some stained glass issues. If protective glass is installed without air channels (venting) at the top and bottom, it causes several serious problems for your stained glass and window frames.
Heat buildup. As noted above, stained glass absorbs heat from the sun. If protective glass is installed without venting, the glass will be hotter and expand further causing more stress. Because there is no expansion joint in the sash or frame (the glass would rattle and break), the expanding glass has no place to go. It will then either bulge or crack.
Oxidation of the lead. Moisture will get trapped between the 2 layers of glass. The moisture will then oxidize the lead matrix that holds your stained glass. This oxidation will cause lead failure about 50% faster.
Wood rot in the frames. The trapped moisture sits on the wood and over time will rot sections of the wood frame. The most common is the window sill but the upright (mullions) supports also can be damage.
Proper venting to preserve stained glass and window frames.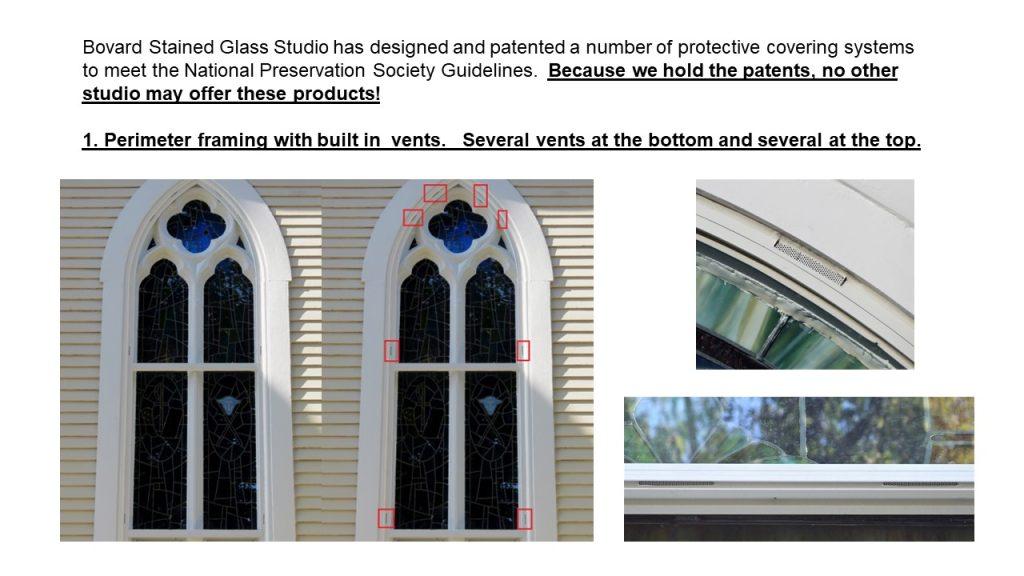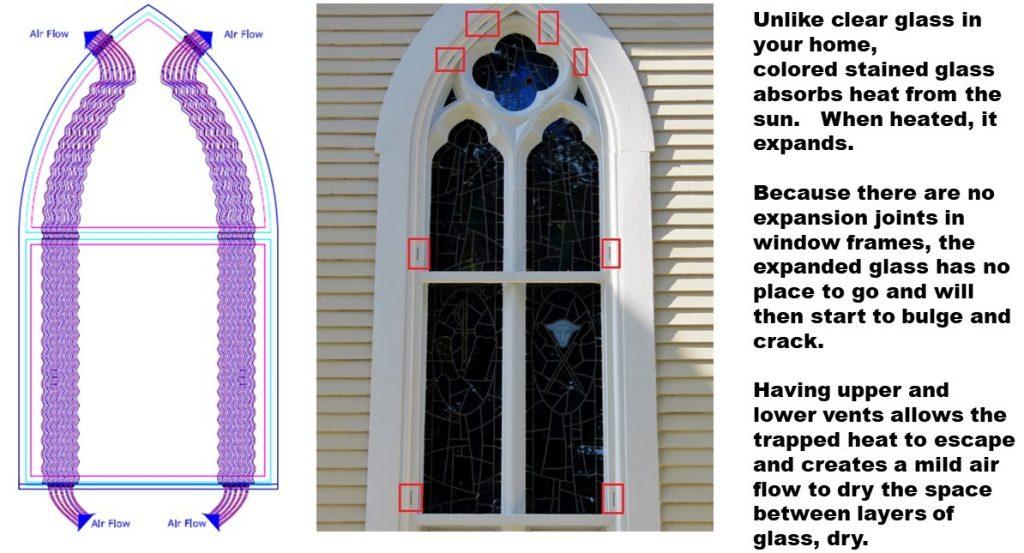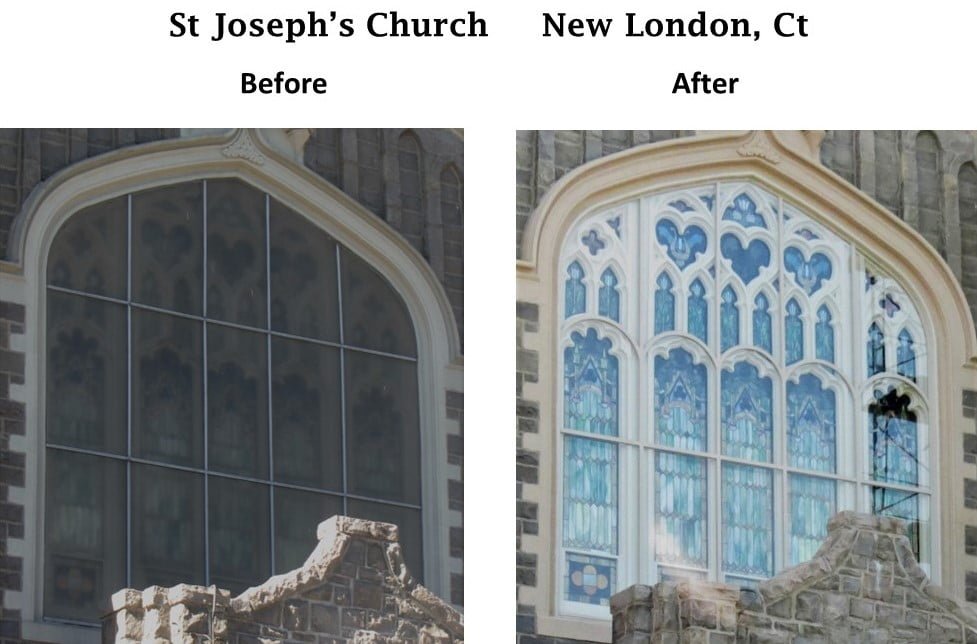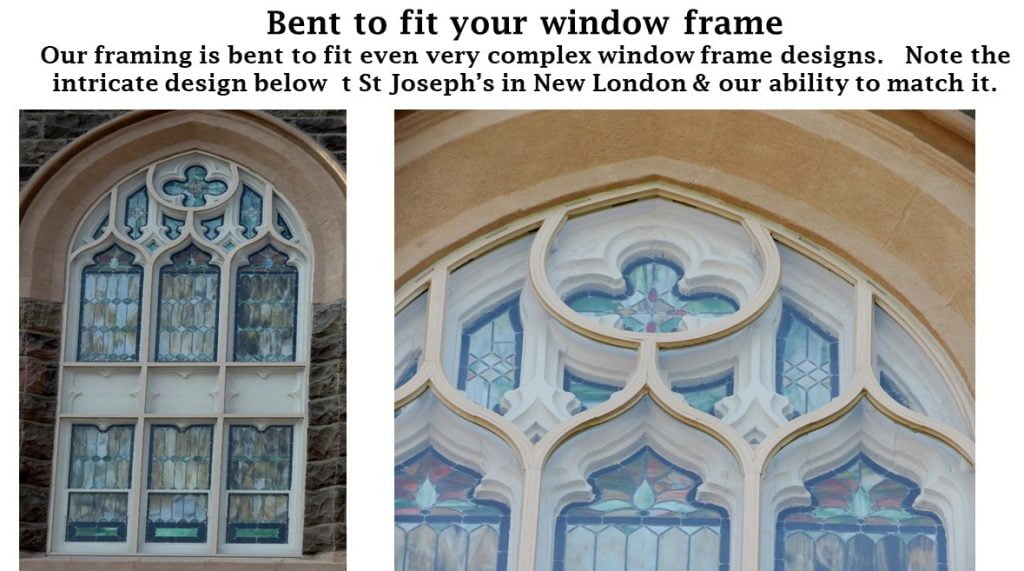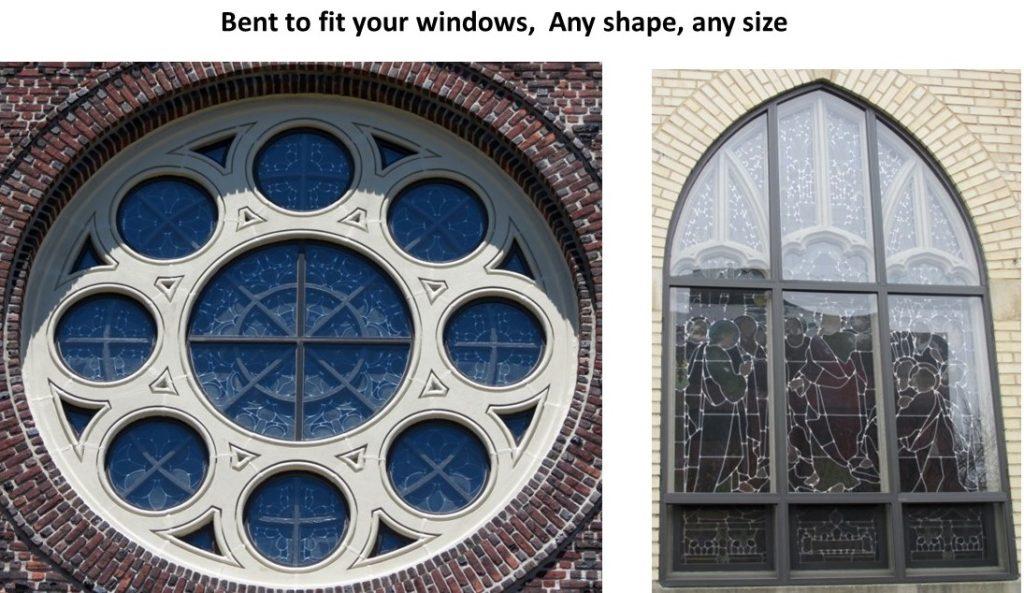 Our patented protective glass system can fit almost any size or shape window frame. It can also fit over almost any material like stone, steel, aluminum or wood. Our skilled field crew teams can undertake the installation and make any exterior repairs needed.
To assist with wood frame issues, we have a full wood frame shop so we can fabricate parts that need to be replaced, like a rotted sill to install on your window without subcontractors. In more serious cases, we can fabricate a complete new wood or aluminum frame and install.
Contact us for a free inspection of your stained glass windws. 800 484 1874