Marble altars and marble sanctuary furniture
Marble altars have been used in churches of all denominations for centuries. Egan Church Restorations work with numerous marble studios in various countries to provide almost any design marble altar or sanctuary furniture you many need.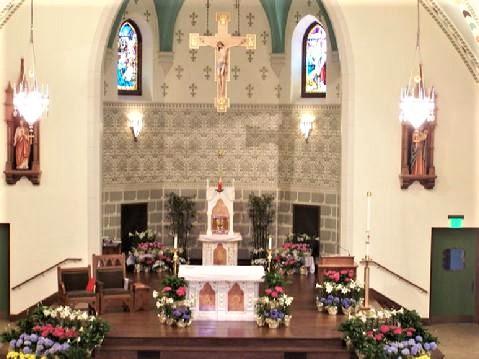 Marble altars and marble church furniture.
Church altars are the focal point of all churches and we have them available in many styles and sizes. We have shown below just a handful of designs for your review. However, most churches will choose to have a custom design to fit their new church or for a major renovation.
When choosing an altar for your church, it is important to match the overall style of architecture of the worship site. Colonial, gothic, romanesque, contemporary or modern, matching styles will enhance your sanctuary design. Next, it is important to plan an altar size appropriate for the functionality of the sanctuary. Planning for normal movement in the sanctuary for daily masses and special occasions needs to be planned for ease of movement.
Marble altar with Alpha and Omega gold leaf set on Rosato marble.
#1001
Marble altar with carved last supper.
# 1002
Marble tabernacle stand with IHS mosaic inlay. # 9001
Marble tabernacle stand with Eucharist symbol mosaic inlay. # 9002
Marble altar with granite columns.
# 1004
Marble altar with brass Alpha, Omega and Chi Rho
# 1005
Marble altar with mosaic of "Lamb of God". # 1006
Marble altar with mosaic inlay of "Lamb of God"
#1007
Marble altar with grape and wheat mosaic inlay. # 1008
Marble altar with carved last supper and gold mosaic tile background. #1009
Marble altar with bronze last supper.
# 1010
Marble altar with mosaic tile inlay.
#1011
All our marble furniture is imported from Italy, not China. Our studios are multi generation of highly skilled stone carvers and are located in the Cararra region of Italy. In addition to many designs of beautiful marble altars, our studio's can create matching Pulpits, Baptismal Fonts, Tabernacle Stands, Altar Rails and more.
All marble furniture is "made to order" for each client. The images above are just some previous examples.
Click on the link below to obtain more information or to ask for free consultation.