Reversible Church Pew Cushions – National Service
Reversible Church Pew Cushions are our most popular type of pew cushions because of the ability to rotate and flip them over, which adds years of use to your investment. High density foam for great comfort, "institutional" grade fabrics for long wear-ability and welt cord edges to prevent frayed edges.
*Church and institutional sales only". No residential orders or single pad orders.
Reversible church pew cushions cut to fit your pews. Welt cord edges and tufted buttons available as well as custom shapes and fabrics.
Tabernacle UMC
Sacramento, CA
Columbia Congregational
Columbia, Ct
St Ann's Episcopal Church
Amsterdam, NY
St Peter's Episcopal Church
Albany, NY
Reversible Church Pew Cushions
Egan Church Restorations offer high quality, affordable reversible style pew cushions for any pew use. Churches, Temples, Courthouses and Meeting Halls. Our standard cushion is 2 inches thick, with high density foam. The cushion is wrapped with "institutional grade", fabrics ( dozens and dozens of choices) and the edges are finished with welt cord edges to prevent premature wear.
All cushions meet the standard CA-117 fire code.
Made in USA.
Other options available at additional charges.
Tufted buttons (shown in photo). Help hold the cushions keep their shape as they age.
2 1/2 or 3 inch thickness instead of 2 inches.
Velour fabric (shown in above photo) instead of nylon/polyester.
Special shapes and cutouts.
Curved Cushions.
We have the ability to make curved cushions to fit curved pews but our shop will requite either individual templates ( every cushion ) or detailed measurements. We can send someone to take these measurements but will need to charge for travel expenses.
Cutouts around poles and columns.
These special cutouts are common but will also need templates for us to be certain of a proper fit.
Angled or rounded ends.
These special shapes are also very common but will also requite templates.
To obtain a quote for your church, we would need the following information;
Quantity of pews. Length of cushions for each.
Example: 10 cushions. 96 inch long x 15 inch wide. 12 cushions 102 inches x 15 inch etc.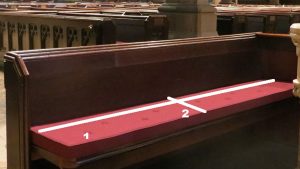 Our pricing is extremely competitive, and we regularly offer the lowest prices available. Simply provide your pew sizes and quantities on our form we will offer our lowest possible price. If you include your address, we can include the estimated shipping charges.