Replacement Pew Kneelers and Replacement Pads
Replacement Pew Kneelers
Replacement pew kneelers are available in your choice of metal or wood. Wood kneelers can be ordered to match your existing original kneelers or you can choose the lightweight "Hamlin Brand" metal kneelers. Hamlin replacement kneelers are high quality, aluminum framed kneelers for church pews. Light weight aluminum helps reduce "banging noise" and the interchangeable parts allow spot repairs as needed in the future.
Many of our metal replacement kneeler projects start with an attempt to repair damaged wood kneelers. An understandable request, but simply not practical from a cost perspective. Repairing damaged wood kneelers would be 2 to 3 times more costly than replacement. Wood replacement kneelers are if you need to maintain the original look of your pews for historical purposes.
Left photo: Hamlin brand replacement metal kneelers. ————- Right: Replacement wood kneelers
Replacement pew kneelers at St. Mary's Church in Groton, CT are shown in the photo above left. Egan Church Restorations were hired to replace the old wood kneelers that had become damaged from decades of heavy use with the light weight Hamlin metal kneelers. Egan's carefully measured each and every kneeler unit to insure the new kneelers would have a proper fit. The old kneelers were removed and disposed of in a church supplied dumpster. We then installed all new metal kneelers throughout the church and tested each to be certain all were secure and lifted up smoothly.
Replacement wood kneelers are shown above right at St Catherine in Norwood, MA. The parish council and the pastor requested we use the new solid oak wood kneelers because of the historic nature of their church. We removed the old broken kneelers and had new solid oak replacement kneelers fabricated and we then installed them throughout the church.
Replacement pew kneelers from Hamlin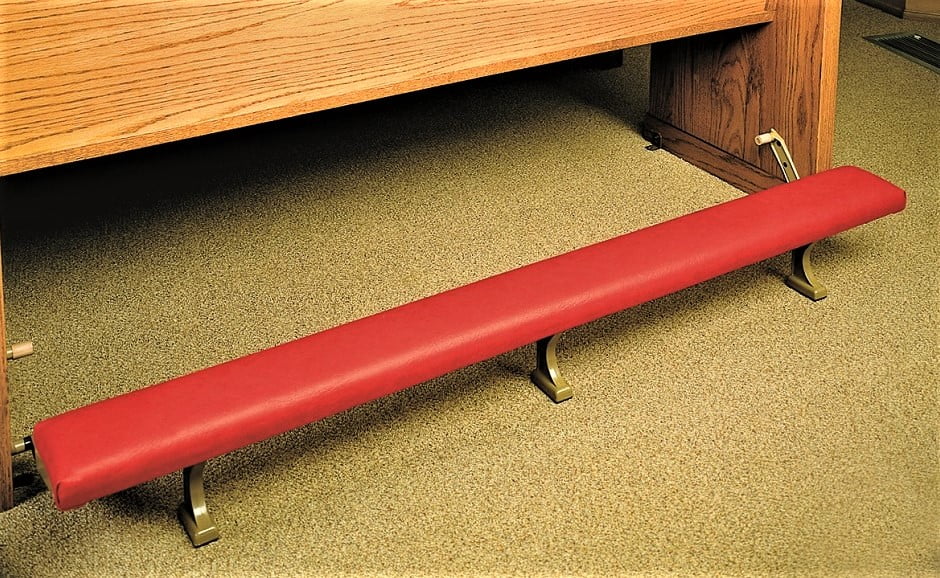 Hamlin brand replacement metal kneelers are the industry standard for high quality, lightweight aluminum kneelers. Made in the USA. Hamlin designed this model metal kneeler to assist churches replace their old broken wood kneelers. The uniqueness of the design is all parts are replaceable. Legs, brackets, support rail and pad, can all be replaced individually. Additionally, the aluminum materials make these about 60% lighter than solid oak kneelers which greatly reduces "banging" when the kneelers drop.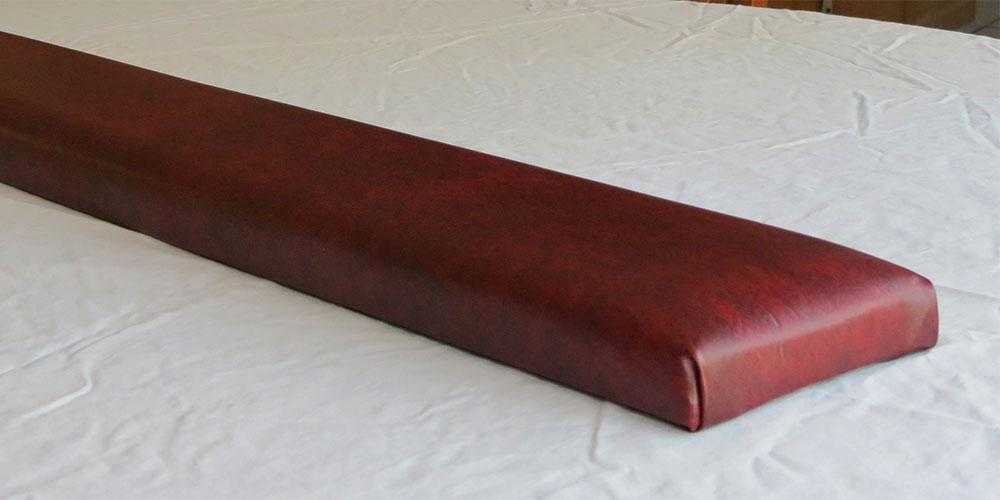 Replacement Pads for Metal or Wood Kneelers
Egan's have available plywood based, replacement kneeler pads when your old pads become ripped or torn. 3/8 in thick plywood base with a 1 inch "Rebond Foam" (special foam for kneeling to prevent bottoming out) and wrapped with high quality vinyl or nylon fabrics. Dozens of choices.