Church Marble Floor.
New installation, resurfacing. Terrazzo floor resurfacing.
Church marble floor materials add elegance to any church, large or small. Egan Church Restorations can help your church add new marble floor tiles or resurface an existing marble floor. Our team can also assist with resurfacing Terrazzo Flooring to restore its original beauty and elegance.
Marble Floor Installation – St Francis University Chapel, Loretto, PA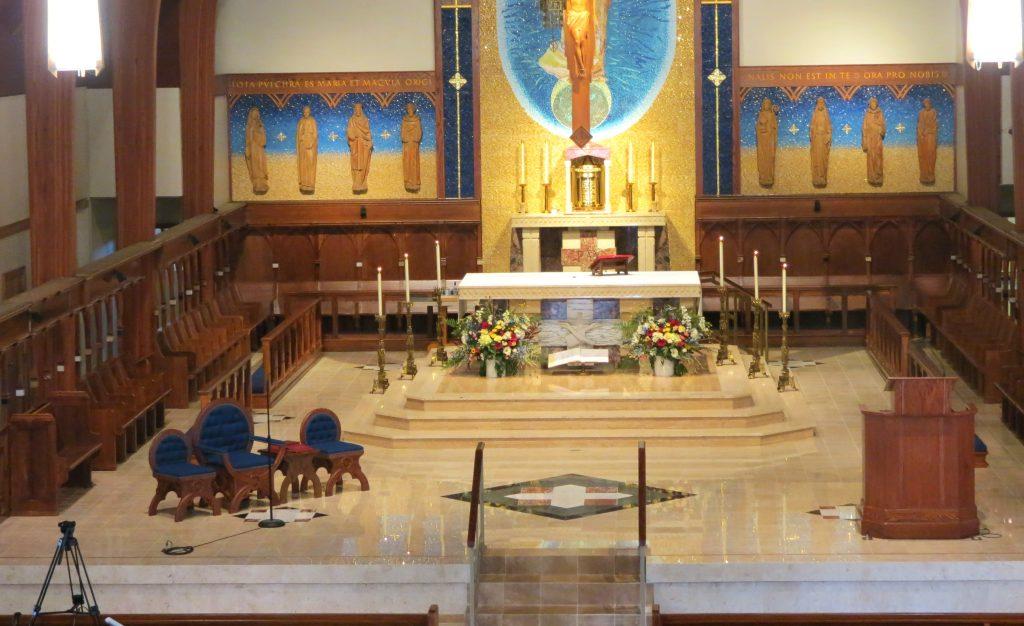 Church marble flooring project. Egan's Church Restorations were hired by St Francis University in Loretto, PA to assist with a number of repairs and renovations to their college chapel. The first project was to remove the old " bathroom looking tile" from the sanctuary floor and design a new layout with decorative cross designs with new imported Italian Marble.
There is no easy way to remove old curch marble floor tiles, so our team used jackhammers to remove all old tiles. After the old tiles were removed our church flooring experts "dry fit" the entire new floor design to ensure every tile was cut and shaped to have a perfect fit. Our team then applied a base layer of mortar and began setting the new tiles. Plastic spacers are used ( above left photo) to provide an expansion space and uniform grout application. After the entire floor is put down and the mortar dries, we then applied matching grout to the floor. Lastly, we cleaned the floor and applied a marble sealer.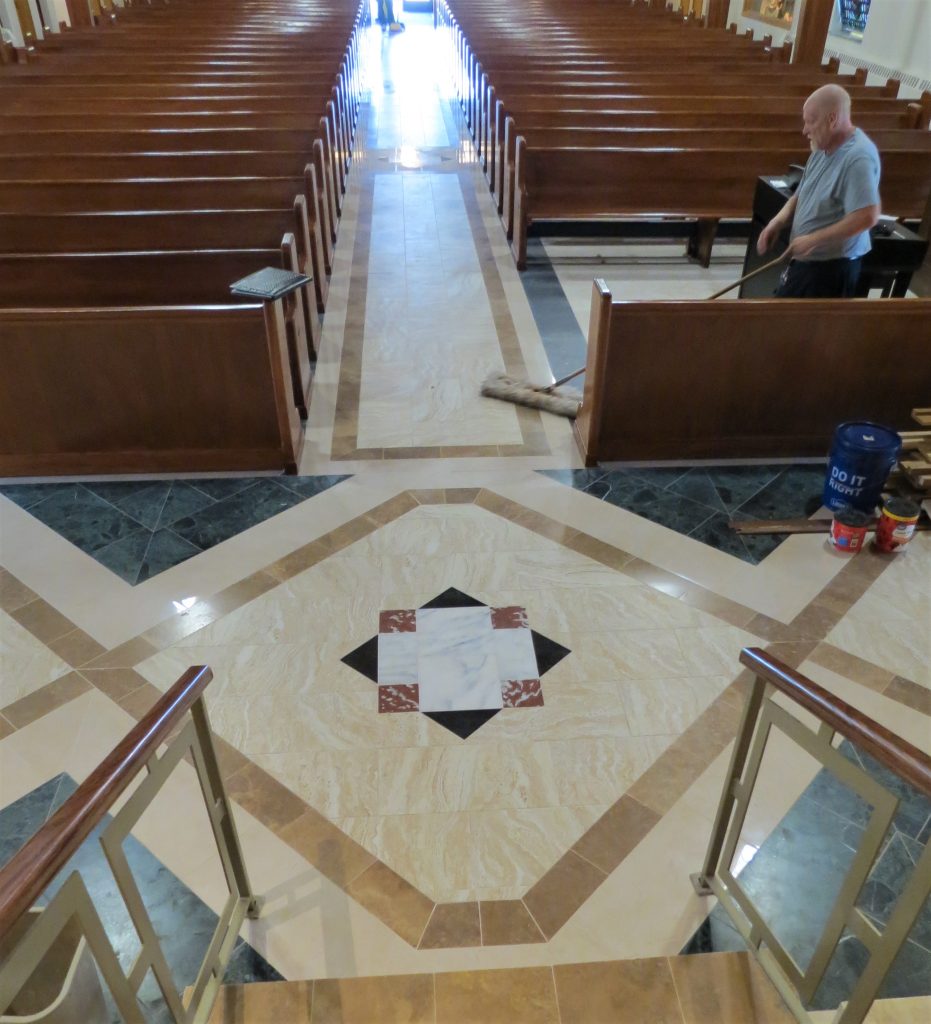 Porcelain decorative tiles were then installed throughout the entire nave, narthex, and sacristy of the chapel. The old floor was a fake wood "Pergo" floor that we simply ripped up and disposed of. Underneath the Pergo was old asbestos tiles that we covered with a new subfloor. This EPA-approved covering is the simplest and least expensive method of dealing with asbestos.
After the subfloor is installed, multiple colors of porcelain tiles were installed with matching cross decorative designs in the center aisle. Borders were then created for all aisles with dark tiles with light tiles installed under the pews.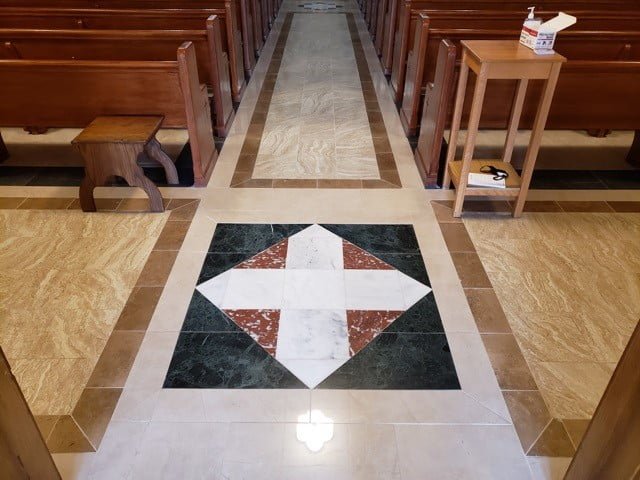 Marble and Terrazzo Church Floor Resurfacing
Resurfacing marble and terrazzo flooring starts with literally "scrapping a layer of stone off using diamond-tipped pads. Water is spread on the marble to prevent heat build-up and then 3 different grits of diamonds are used. Rough tips are used on the first pass to scrape the old wax, sealer, and top layer of stone off. Medium tips are used on the 2nd pass to smooth any rough spots. Fine tips are used on the 3rd pass to polish the stone to a smooth surface. A church marble floor sealer is then applied to preserve the stone.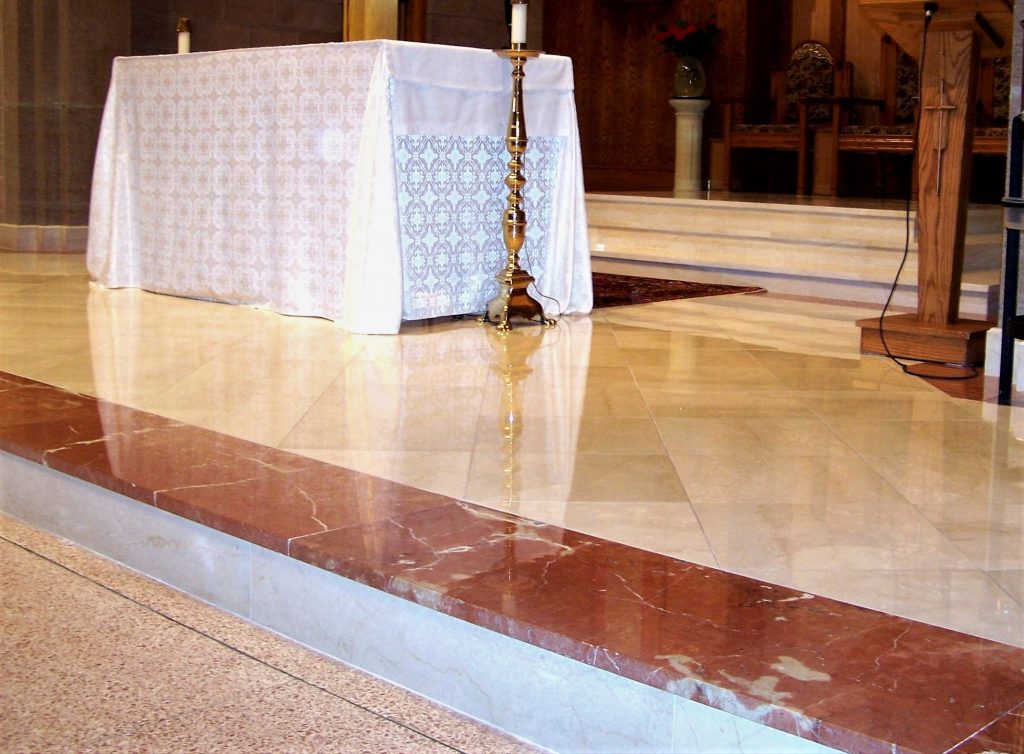 Marble Church Floor Resurfacing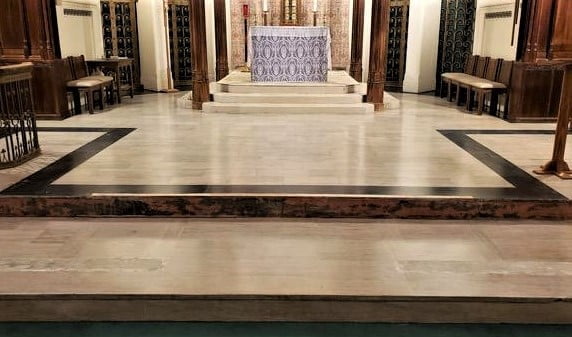 Have A Church Marble Floor Resurfacing & Tile Installation Project?
Contact us for more information: 800 484 1874 or email

[email protected]
Visit the following pages to see more examples of our high-quality decorative painting and historic plaster repair.