Chancel Furniture Sets
Chancel Furniture Sets
Chancel furniture sets are available in a group of matched pieces and a variety of styles and sizes. Egan Church Restorations offer numerous models of communion tables, pulpits, clergy chairs and baptimal fonts, all in matching styles and finishes. In addition we can modify and existing model or create a completely custom group, to your specifications.
Furniture made in a two tone or as commonly referred "colonial style" is made using solid poplar hardwood for the painted sections and red oak for the stained sections. Furniture in a stain finish is made using solid red oak. Other hardwoods are also available such as Cherry, Ashe, Maple, Walnut and others.
Individual pieces are available separately. Click on links below to see these other matching furniture pieces.
The above images are just a small selection of possible models to available. Our woodworkers can make any of the tables in a standard format, make minor adjustments or create a completely custom communion table depending on what you need. All of the solid base tables are open in the rear with 1 built in shelf for storage of your communion ware. We offer many standard stains and our very popular "two tone" (colonial finish). Custom finishes are also available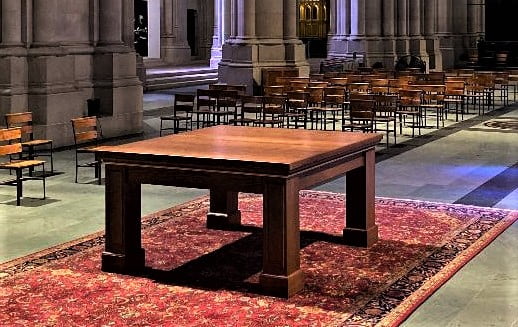 Let us help you choose the right model chancel furniture for your worship site. We can guide you through the process of matching your building's architecture and your worship services to choose the right furniture for you. Contact us by phone ( 800 484 1874 ) or by clicking on the contact form below and we will be glad to help.