Reupholstery of Pew Cushions

Reupholstery of pew cushions will eventually be needed as normal wear and tear will take their toll. Our team of upholstery experts can repair and reupholster your existing cushioned pews. Seat only, Seat and Back and seat, back and back of back. Egan's will remove the old foam and fabric, and add new foam and fabric for a completely refreshed pew cushion.
Reupholstery of pew cushions at Boone Creek Christian Ctr.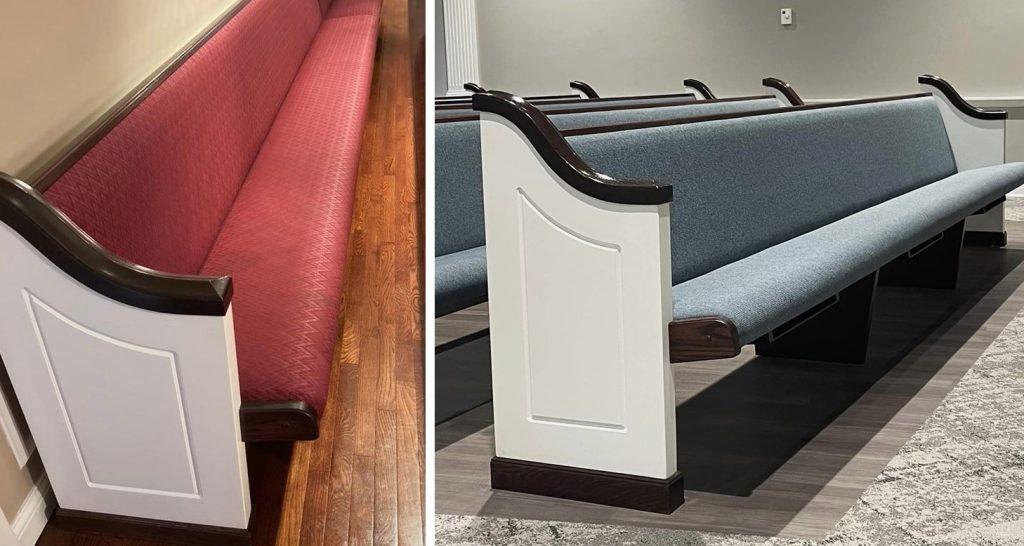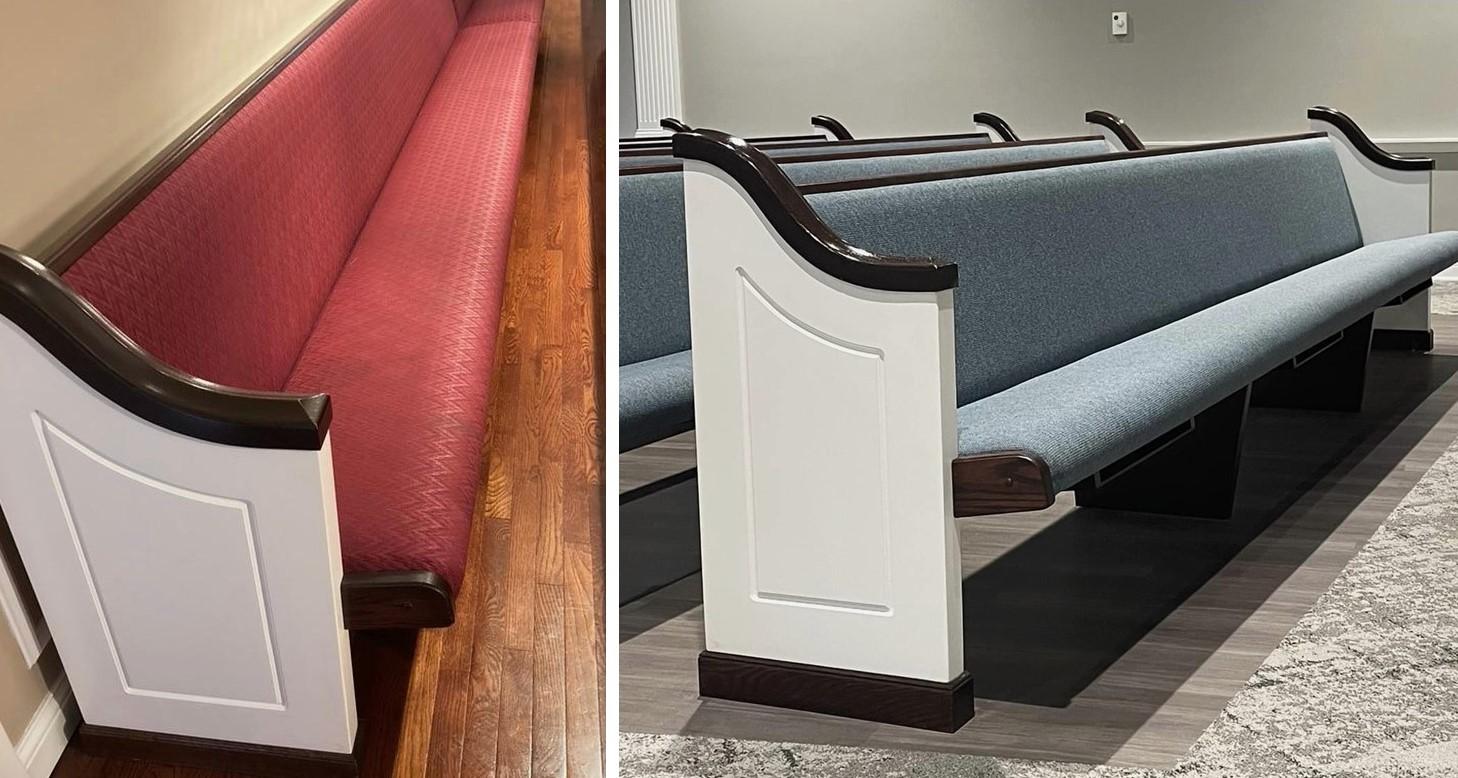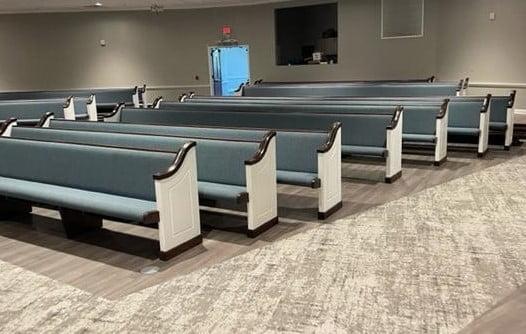 Reupholstery of existing pew cushions usually is needed about 25 years or so after the pews are installed. The more services you hold and the more crowded the sanctuary (more people sitting on the pews) will accelerate the wear patterns. Over time, the fabric stretches and then will begin to tear. In addition, decades of use will cause the foam to deteriorate which needs to be corrected during reupholstery.
Our team of upholstery experts will come to your church and do all the work on site. After you choose a fabric you would like for the new material, we will arrive at the church and strip the existing fabric and foam. We will then remove any existing tack strips or old upholstery tacks. We then install a new tack strip on the seat where the back meets the seat. We install new 2 1/2 inch high density foam ( or other thickness based on your needs) so your pews will feel as comfortable as brand new. We then wrap the foam with your choice of fabric and secure it underneath the pew seat with upholstery tacks, pulling the fabric tight to avoid wrinkles.
Ripped cushions from decades of normal wear and tear.
Reupholstery of existing pew cushions can be done almost anywhere in the lower 48 states. Egan's Church Restorations upholstery team can service almost any location in the lower 48 states. Sorry Alaska and Hawaii, the distance is simply too great. Our team will bring the foam and fabric to your site and do all the work without removing the pews. We strip the old fabric and foam from your pews. We then strip any remaining upholstery tacks or tack strips.
Depending on your request, we install new high density foam, usually 2 1/2 inches thick so your cushions will be as comfortable as new. We then install the fabric you chose and secure it using upholstery tacks. Our standard fabric is "Sherpa Shire" brand of institutional grade nylon/polyester blends. We have numerous other fabrics and patterns but may require a "small order" upcharge.
We also offer velour fabric from the Piedmont company. Velour adds an elegant look to your cushions but is generally much more expensive.
Pew cushions are all made to fit your pews so measuring is very important. We would need the length of the pew by measuring from the inside face of the pew end to the opposite inside face of the other end. If this is a center divider, you would need to measure as if there are 2 separate cushions. We then need the width of the seat by measuring from the back edge of the seat (where it butts up to the back) to the front edge.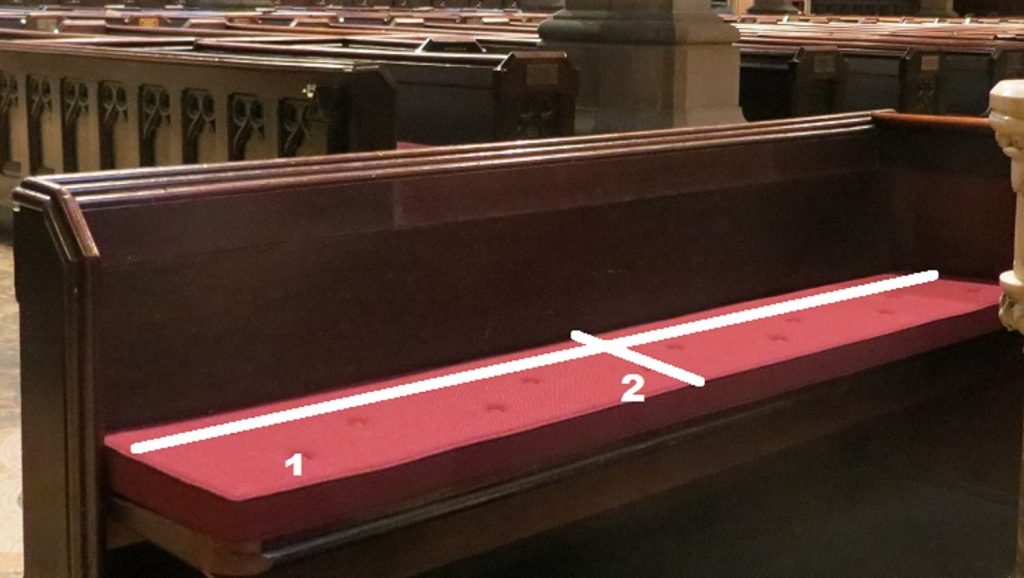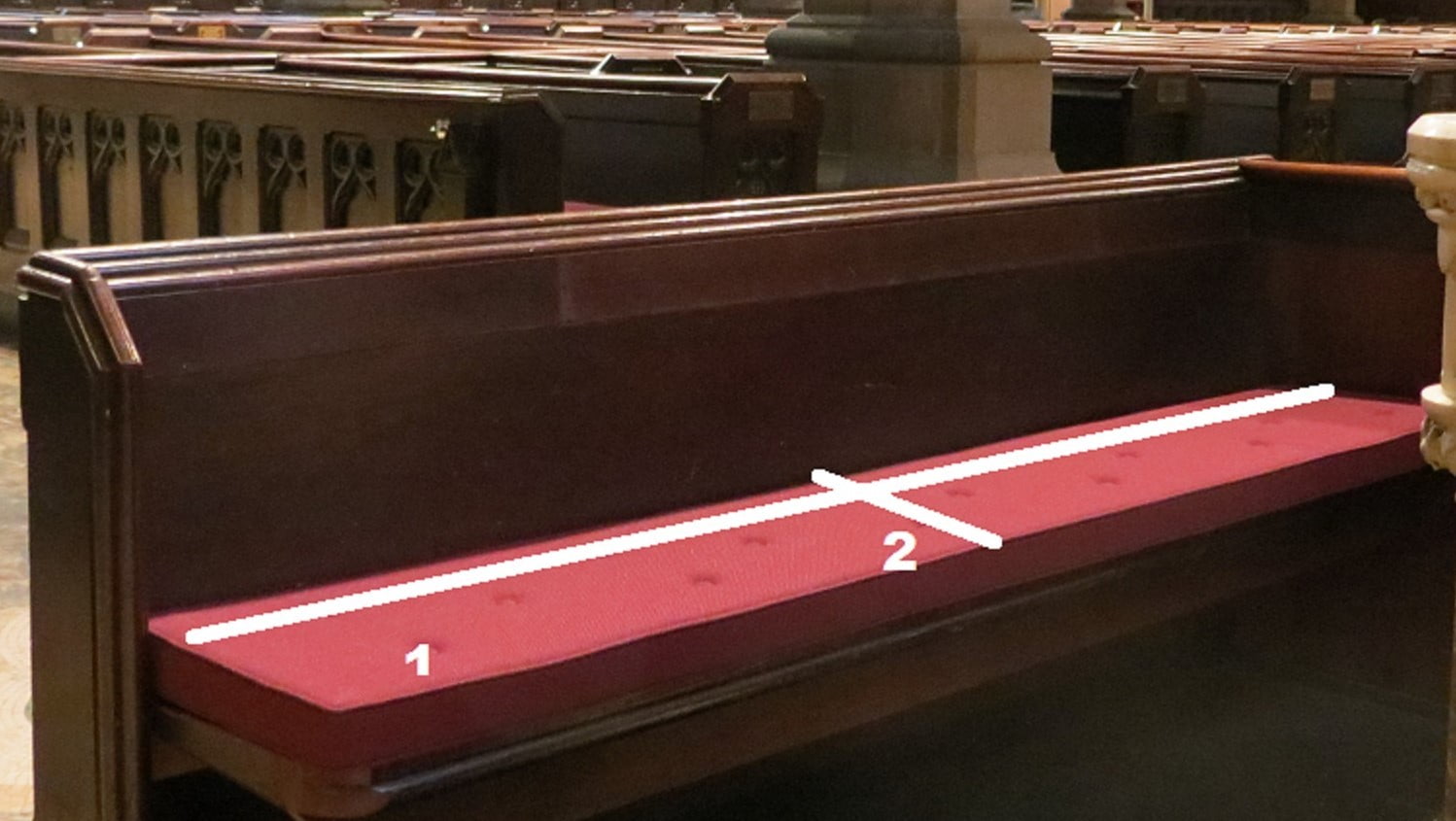 Contact us for a Free Quote
Contact Us for a free quote. Please use our attached quote form to supply the quantity and sizes of your pews.