Church Steeple Repair
Church steeple repair is often overlooked as a regular maintenance issue simply because of the difficulty in reaching the steeple. Egan Church Restorations have the experts to make any steeple repair that is needed, and just as importantly the proper OSHA training to operate large lifts that are needed.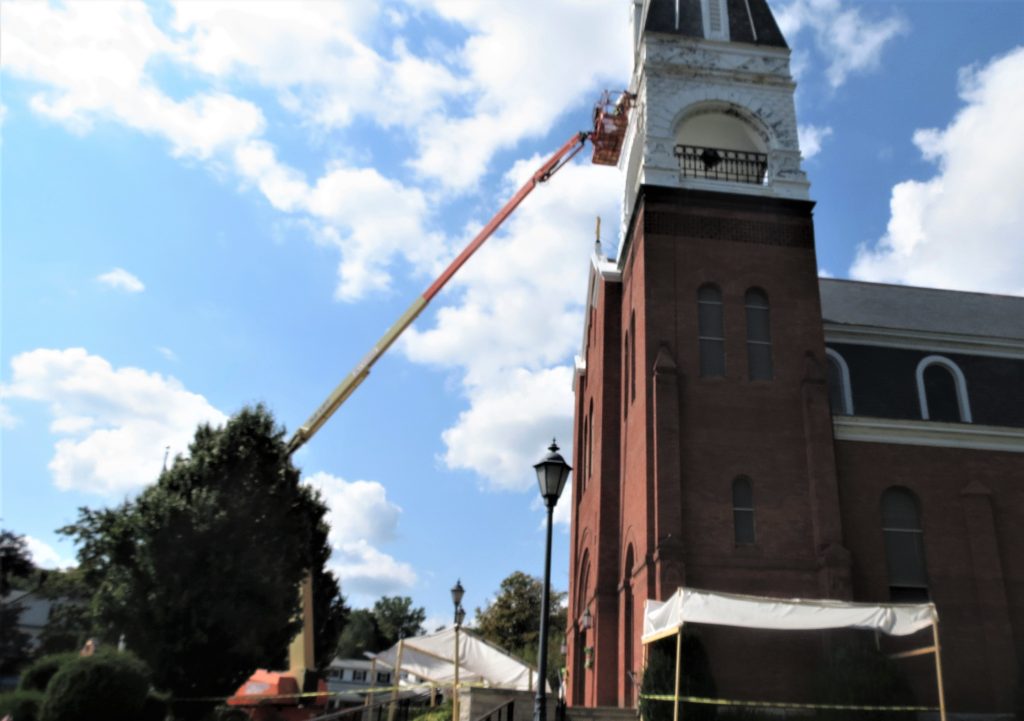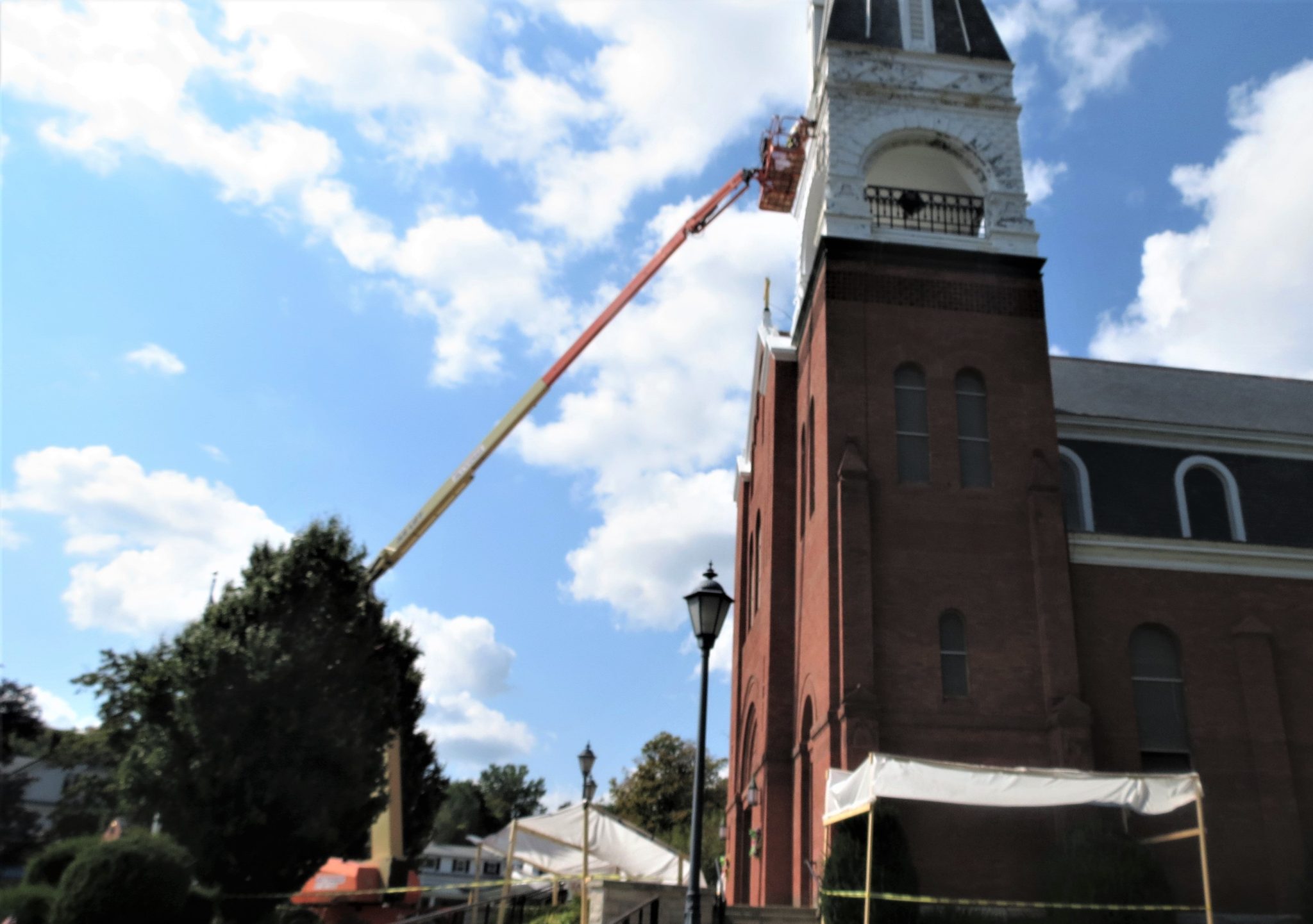 After: Steeple repair and repainting complete. —- Before: Surface sanded and ready to paint
Project above. St Paul's in Binghampton, NY had a 60ft bell tower that had been neglected for routine repairs and painting. In addition, the front face of the church trim boards and second shorter tower needed repair and painting while we had the lift in place. We rented a 80 ft boom lift to begin the work. Because of the weight of the lift, we placed multiple layer of plywood on the ground anywhere the lift would be to protect the walkways and lawn.
After scraping all the wood and metal surfaces, we used wood epoxy to spot repair minor sections of wood rot. After it dried, we re-sanded and then applied a primer coat of paint. To complete the work we applied 2 additional layers of Sherwin Williams exterior latex paint for a finish that will last.
Church Steeple Repair and roofing. Dutch Reformed Church, Clavernack, NY
Church steeple repair and new bell tower roof. Dutch Reformed Church. Clavernack, NY
Church steeple repair and bell tower roof replacement at the Dutch Reformed Church in Clavernack, NY started with a leaking bell tower, flat roof. The flat roof was underneath heavy wood beams holding the bell in the bell tower and required a great deal of effort, laying on our stomachs to remove the old copper roof. New wood sheathing was installed and then a vapor barrier installed. We then installed a new copper roof that had been fabricated back at our shop to be able to work under the beams.
Church Steeple Repair – Roofing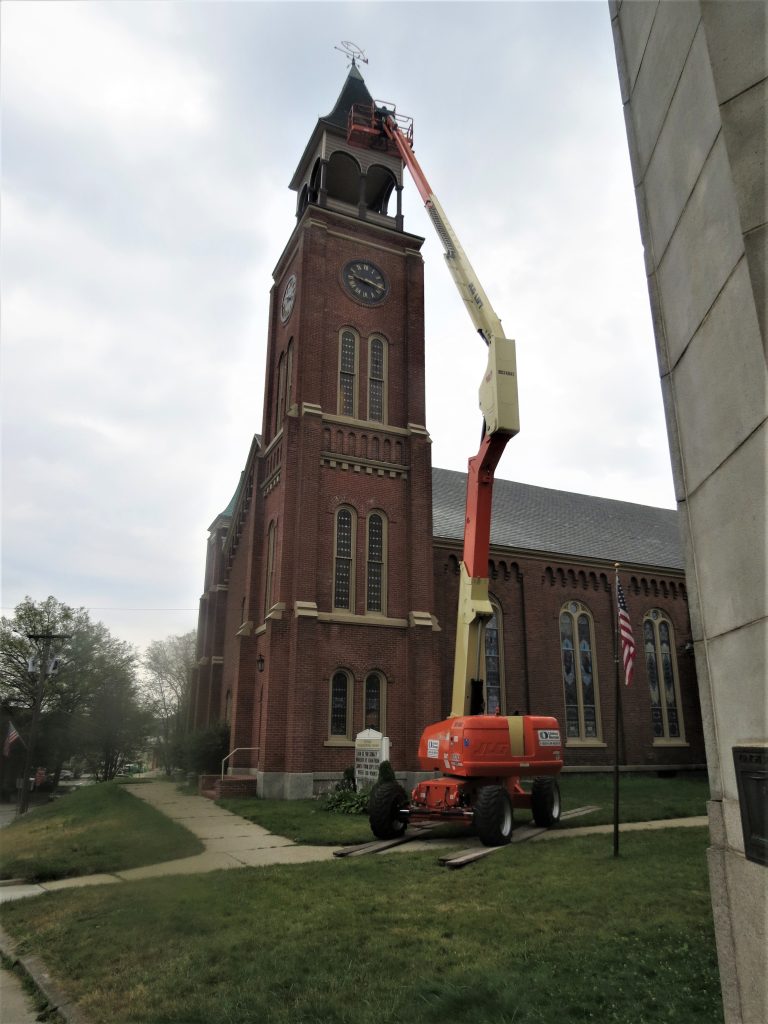 Church steeple roof replacement. Setting the boom to begin work. — Roof replacement completed.
Church steeple roof replacement at Putnam Congregational Church in Putnam, CT started with our team setting up the 60 ft boom lift for access. Our team is fully OSHA trained and licensed for boom operations for safety and to avoid any site damage to your property. This project was a simple shingle roof replacement that was needed after several bad winter storms. Egan's team of roofers, stripped all the old shingles off the roof, set new moisture barriers and re-shingled the steeple roof.