Church painting and plaster repair. Faux marble painting. Kneeler repairs.
Church painting work by Egan Church Restorations at Our Lady of Good Council Church in Manhattan. to assist with some internal plaster repairs and decorative painting. Water leaks from the roof had caused noticeable plaster damage inside the sanctuary and nave of the church. In addition, the parish wanted to change the color schemes and add decorative finishes as part of an overall church renovation project.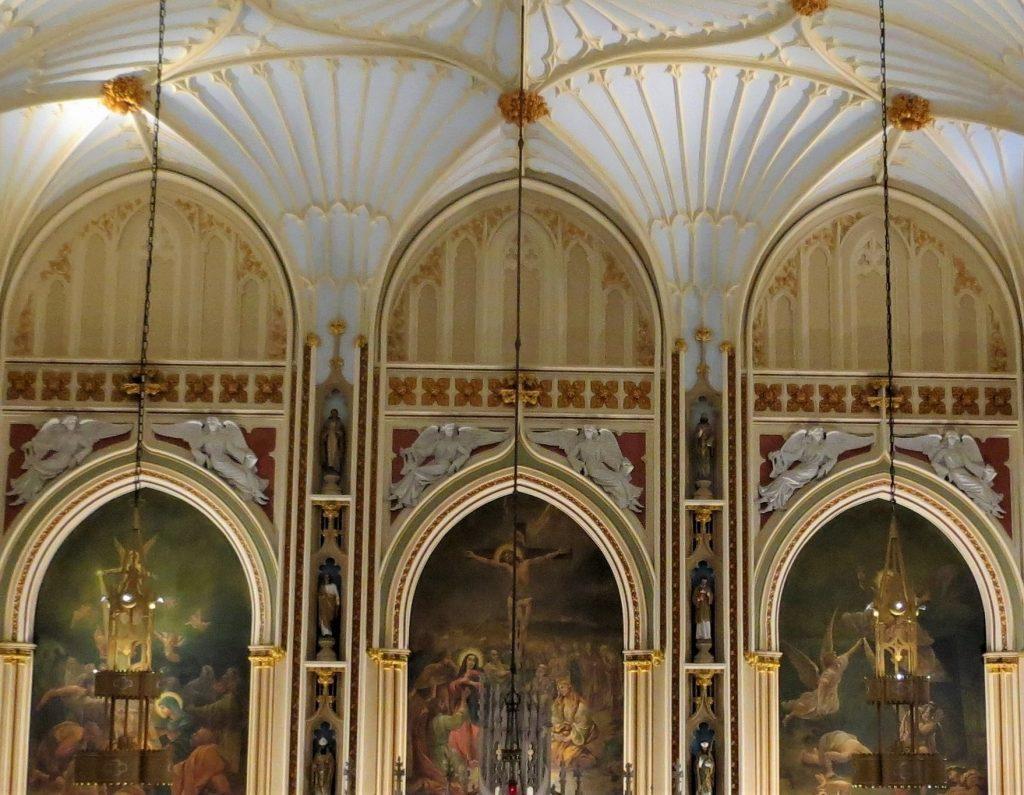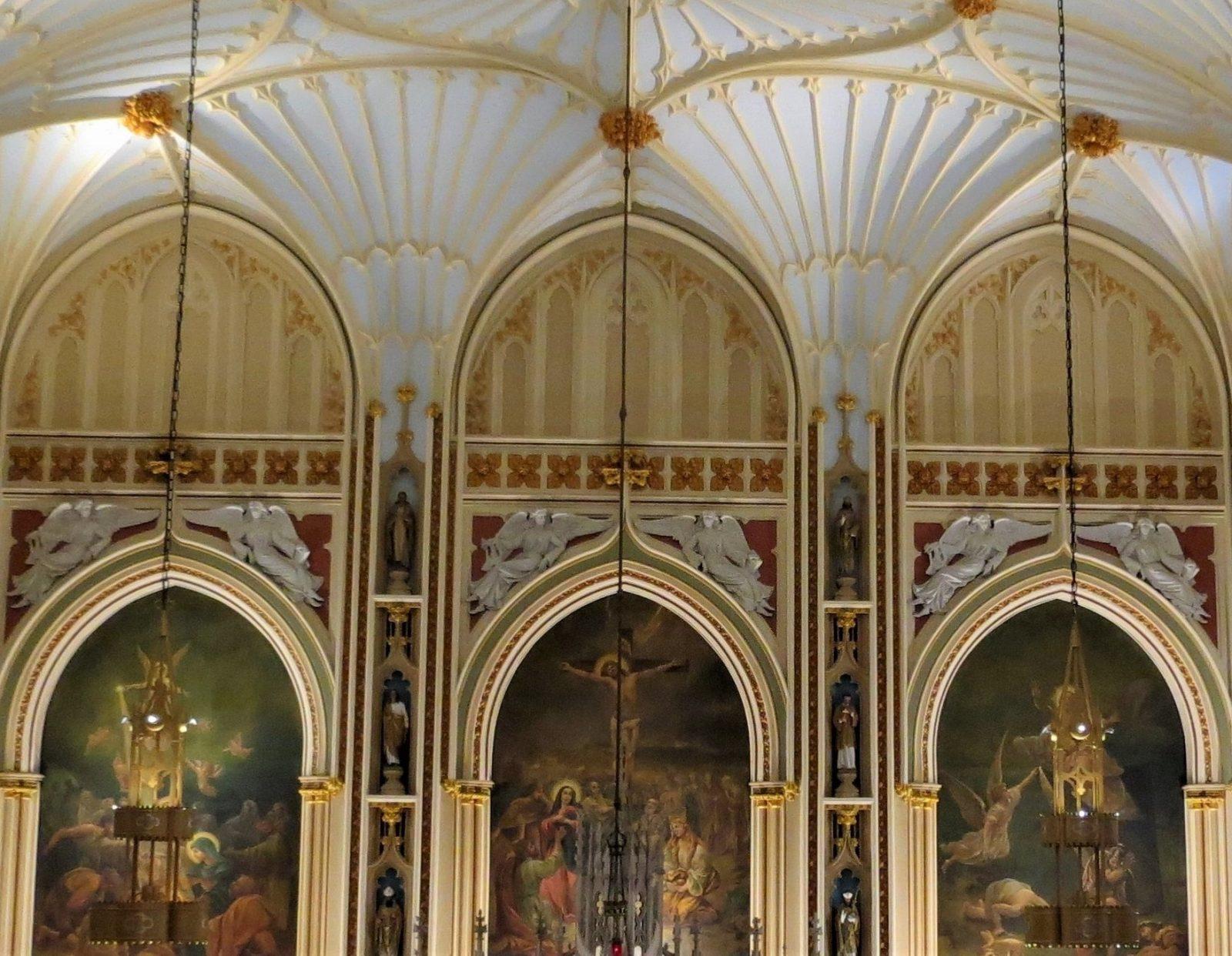 Our team of church renovation experts started with removal of the old damaged plaster. Some sections were beyond repair so we removed sections, added new wire mesh and then applied all new plaster to insure a secure repair. Other simple cracks in the plaster were repaired, taped and new skim coat of plaster applied.
Our team of artists then developed new color schemes to help brighten the church and highlight various architectural features. Simple changes such as using lighter colors on the ceiling, helped reflect light back to the sanctuary. Colors in the stained glass windows were copied to have a more prayerful feeling. Our liturgical designers proposed making a copy of the stencil designs, recreating them on wall paper and applying them in place of the hundreds of individual stencil patterns. This saved tens of thousands of dollars without changing the look of the church.
During all this work, the parish fundraising efforts kicked into high gear as the parishioners started to see the startling results. In just a short time, they tripled the funds already collected so now a full interior renovation could be completed.
Egan's Church Restorations also assisted with replacing the old stained glass protective coverings, metal kneelers, and statue painting.
Generally there are 2 reasons for plaster damage in an old church. Water damage from leaks or simple old age. Regardless of the cause, we follow all preservation guidelines and try to save existing materials if at all possible. We never suggest using sheetrock to replace original plaster walls.
Water damage to plaster has to be carefully reviewed to determine the correct repair steps. If the plaster has become "mushy" it probably will need to be removed and new plaster added. If it is just lightly stained and stable, it can simply be sanded and painted with "kilz" to eliminate the stain.
To replace the mushy or soft plaster, our team will remove as much of the soft plaster as we can without disturbing the surrounding undamaged plaster. After removal, we inspect the wood lathes to be certain they are secure and ready to accept the new plaster. We then attach a wire mesh to the wood lathes to give us a base to attach the new plaster to. We then add new plaster in multiple, thin layers to match the thickness of the existing plaster. We then sand and prepare for a primer coat of paint.
Cracks in plaster are a normal part of "old age" in the plaster. Like all materials, plaster expands and contracts with heat and cold. This expansion/contraction process over decades, eventually weakens the plaster which leads to the cracks.
Repairing cracks is a simple but time consuming process. First we must clean out the crack to remove any loose plaster. We use a utility knife and scrape the loose plaster until we get a firm edge. We then add joint filler to fill in the crack. For wide cracks, we apply joint compound and then fiberglass tape over the crack. After it dries, we sand to a smooth surface and apply a coat of primer paint.