Interior Painting – Gallery
Interior painting
St James Episcopal Church. New London, CT
Left photo: Plaster repair and painting completed. Right Photo: Scaffolding set for work in progress
Interior painting work at St James Episcopal Church. New London, Ct Complete interior church renovation and church painting. Egan Church Restorations were hired to assist St James Episcopal Church with repairing serious water damaged plaster and repainting work in their sanctuary. the work began with phase 1 -repairing the support columns throughout the church. The parishioners, after seeing the work to restore their historic church, got behind the fundraising efforts and we were asked to continue to repair all the walls throughout the church.
South wall scaffolding set to repair water damaged plaster around all the window frames.
Top left photo: Before work begins. Above photo after work is complete. Egan Church Restorations were hired by St James Episcopal Church to assist in a complete renovation of the church. There was extensive damage to the 140 year old plaster from water leaking through the large church window frames. Our team of plaster repair experts, removed the old water soaked plaster then re-secured the wood lathes. We then added a wire screen to the lathes to act as a new base for the replacement plaster. We then added 3 layers of new plaster, allowing each layer to completely dry to ensure a firm base for the next layer. Lastly we fine sanded the plaster and repainted the walls in a color chosen to match the original as closely as possible.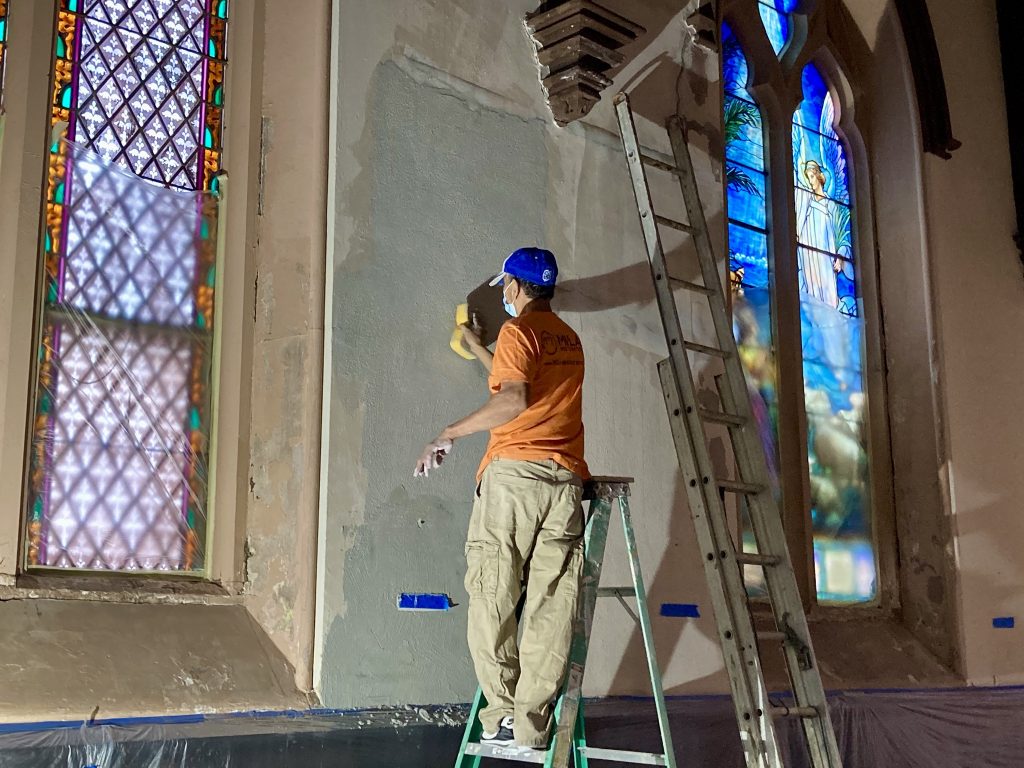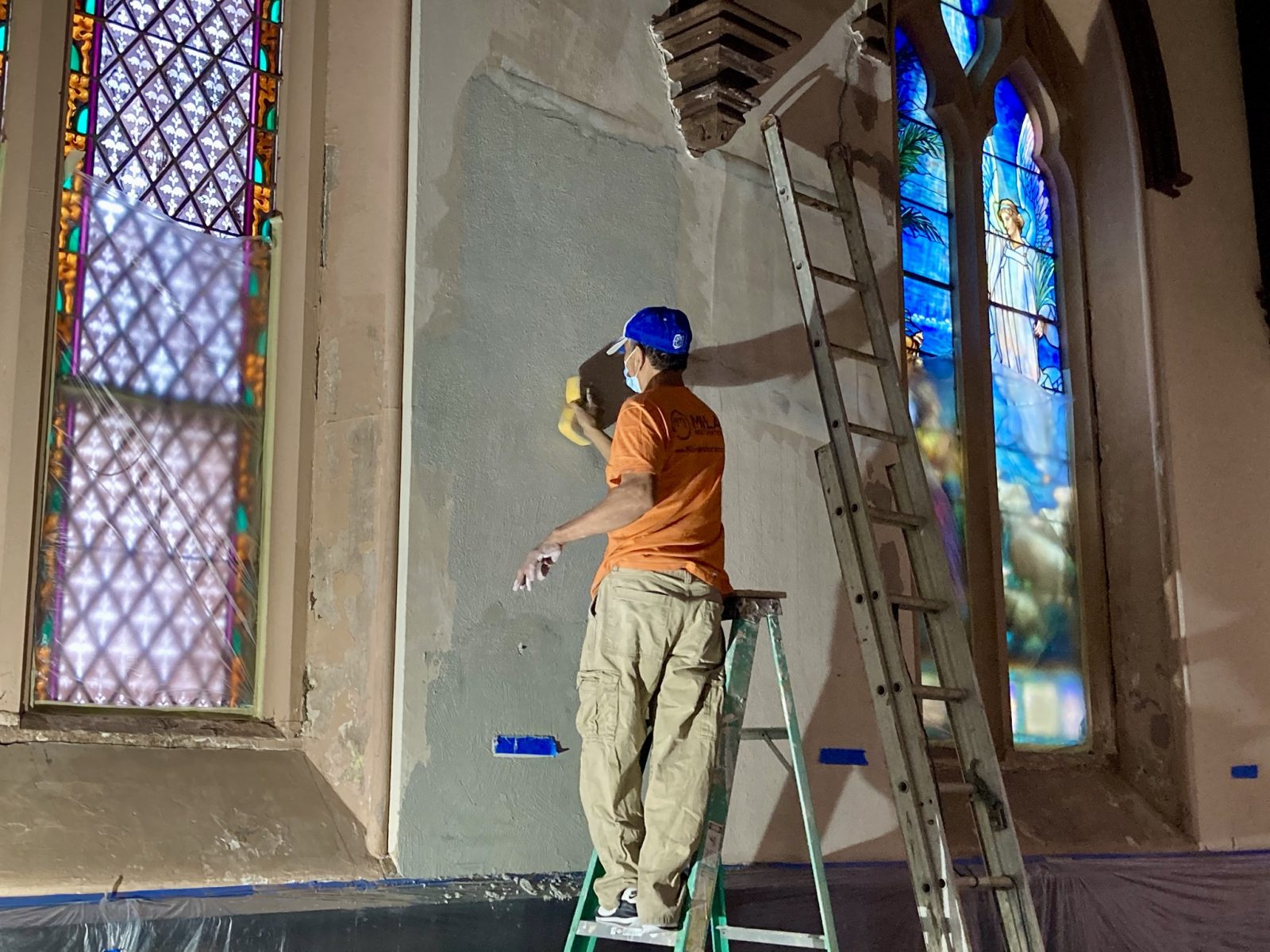 Below: Plaster repair and painting completed. We are proud to have been asked to help St James restore their Land marked Church. Built in 1850 during the boom time of the whaling industry in New London, beautiful mahogany was brought back by the ships as ballast in the boats and St James used it to create a beautiful sanctuary. Historic stained glass windows including several by Louis Comfort Tiffany were added later.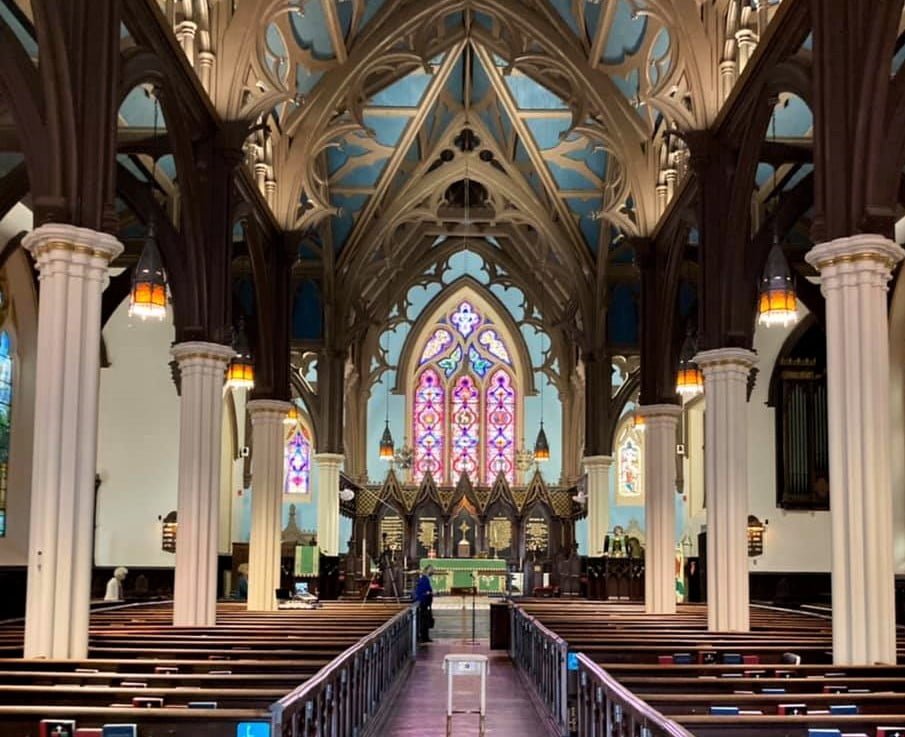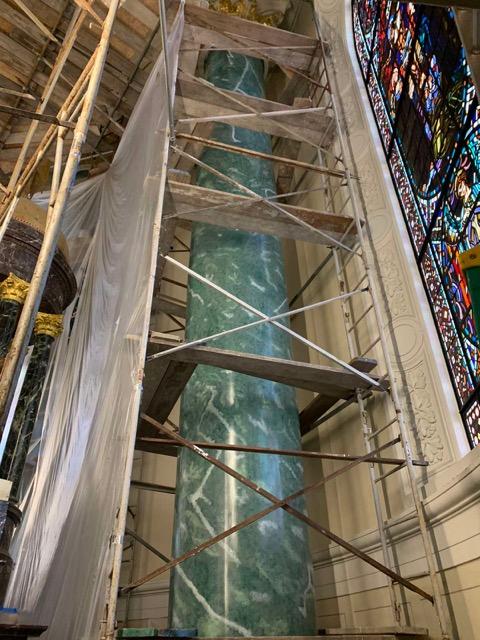 CONTACT US FOR FREE CONSULTATION 800 484 1874