Restoration and renovation are similar terms, frequently used for various church renovation projects. There are, however, some differences in the work required.
Church Restoration: This generally means to "bring something back to its original condition or design". This could include something simple, like removing carpeting to reveal the original hardwood floor and refinishing. Or it could mean more involved changes such as bringing a sanctuary back to the original design, using old photos and recreating furniture, artwork, and flooring materials.
Church Renovations are a broader-based term and including many traditional church services such as; plaster repair, painting, pew refinishing, flooring, and more.
Click on the images or links below for more detailed information about our various church renovation services; church plaster and painting, stained glass windows, church flooring, and church furniture.
Church Painting
Plaster Repair, Interior Painting,
Faux Marble, Exterior Painting.
Stained Glass Windows
Repair, New Windows,
Frame Repair, New Frames
Church Flooring
Marble Tile, Hardwood Floors,
Porcelain Tile, Carpeting.
Church Furniture
New Pews, Chairs, Altars,
Pew Repair, Pew Cushions.
---
Church Restoration & Renovation Process
Egan's Church Restorations offer many products and services for your repair project regardless of whether it is a simple church renovation or a more detailed restoration. Below is more information about our process.
Renovation of Our Lady of Good Counsel Church. Manhattan, NY —— Before and after work is completed.
---
Church Restoration
"Church Restoration' generally means to "bring back" the church or temple to it's original design. Regardless of whether you are planning a major project or just trying to restore a small feature of your worship site, the first step is for our trained expert, Robert Egan, to visit with you and listen to your needs and concerns. After developing a good understanding of your goals, Bob Egan will then study your site and take necessary measurements and study existing conditions.
St James Episcopal Church. New London, CT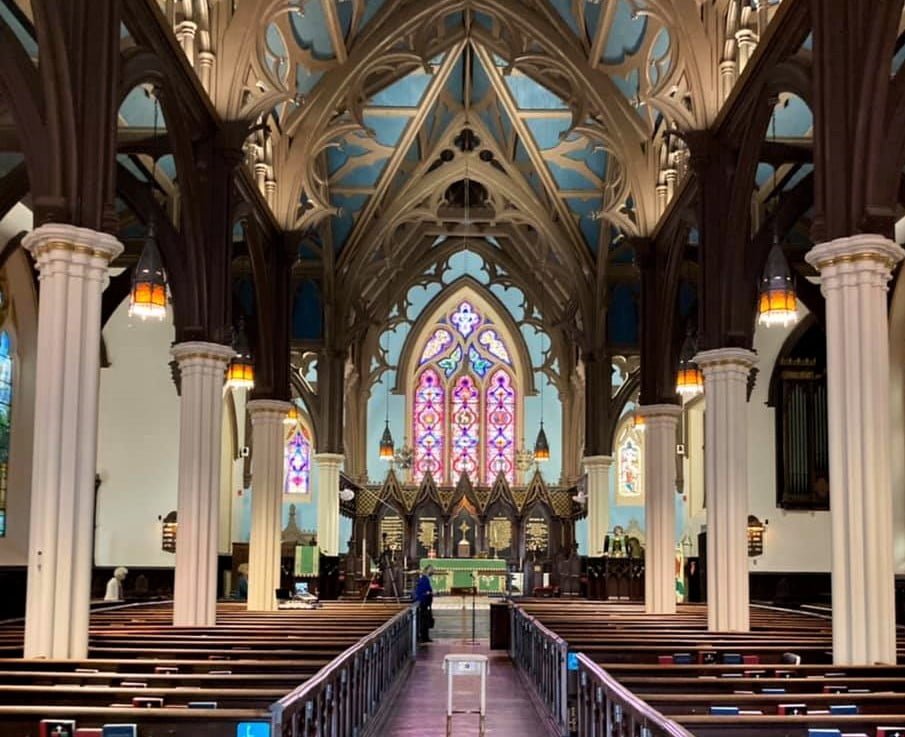 Our 4 Step Church Restoration & Renovation Process
Above: St James Episcopal Church had many concerns. The main problem was water leaks damaging the sanctuary, chancel and narthex plaster and paint. Egan Church Restorations were hired to assist the parish with restoring all the damaged materials and repainting the church.
Step 1. Initial review. Bob Egan met with members of the vestry at St James Church to review the damage that had occurred and to develop a "phased" approach to the repairs that needed to be balanced with limited fundraising issues..
Step 2. Research. In order to "restore the church" to it's original condition, we worked with the vestry to determine what the original color schemes were for the various architectural components of the church. Columns, walls, window frames, chancel wall all had been changed over the years and the goal was to restore the church to the original design..
Step 3. After determining the original colors, we painted samples of the various colors in the appropriate areas for a final review before work begins.
Step 4. Our team then repaired the water damaged plaster and repainted the entire interior.
Scaffolding set up on north wall. —- Phase 1 of church renovation. —— Plaster is then repaired.
Church restoration is complete. Plaster is repaired throughout, columns repaired and original color schemes repainted to restore the church to it's original beauty.
---
Church Renovation
The term "church renovation" has many interpretations. It can include simple work like pew refinishing or be part of a more involved overall project. The beginning process for renovation projects is still for Bob Egan to visit and go over the general scope of work you are hoping to undertake and then to take detailed measurements and examine the existing conditions. Depending on the scope of work in your project, we may then have our Liturgical Designer ( see below for more info) help plan major changes you are hoping to do or simply advise on color scheme changes.
We will then create a suggested plan for work and budgets for the possible materials and work. We will meet with your committee again to review and make any adjustments to the planned work you may request. Finally we will submit our formal quote for consideration.
Water damaged plaster at stained glass window frame. — Wood lathes secured and new plaster applied.
Above: Before and After images of the Sanctuary at All Saints Episcopal Church that we renovated. The pastor's first request was to spot repair damaged plaster throughout the sanctuary. Egan's Church Restorations began the spot repairs and repainting the repaired areas. As work continued, fundraising accelerated and the vestry asked us to repaint the entire church..
---
Pew Repair and Pew Refinishing.
Pew re-sizing, repair and refinishing were also part of the St. Ignatius church renovation. In the above photos our wood workers are dis-assembling the first 3 rows of pews to re-size them for easier access for funerals and moving the casket during services. Our wood workers then made simple crack repairs and refinished all the pews and screens. We also added new pads to the pew kneelers.
Left: Carpet covering marble tile floor. —– Right. Carpet removed. Marble tile resurfaced
Marble Floor Re-surfacing.
Blessed Sacrament Church renovation began with removing the 1960's install carpet that had covered the original marble tile floor. After the carpet was removed, the marble tile was re-surfaced in the sanctuary. Our church flooring experts then used diamond-tipped pads to remove old wax build-up. A heavy grit tip is used for this step. Then a medium grit tip is used to remove a very thin layer of stone which also removes surface scratches and blemishes. Finally, a fine-grit tip is used to polish the stone to a high polish finish. A marble sealer is then applied to prevent future stains.
---
Liturgical Design
After our site meeting is over, Bob will then review your project with our liturgical designer to develop a plan for your consideration on how best to restore the church. Depending on the complexity of the project, we can develop some "draft" sketches" of possible changes or if a minor change, simple prepare a quote for consideration. All ideas and concepts are then reviewed and color samples provided before work begins to be certain "the idea" matches your expectations.
Liturgical design – Our Lady of Good Counsel. Manhattan, NY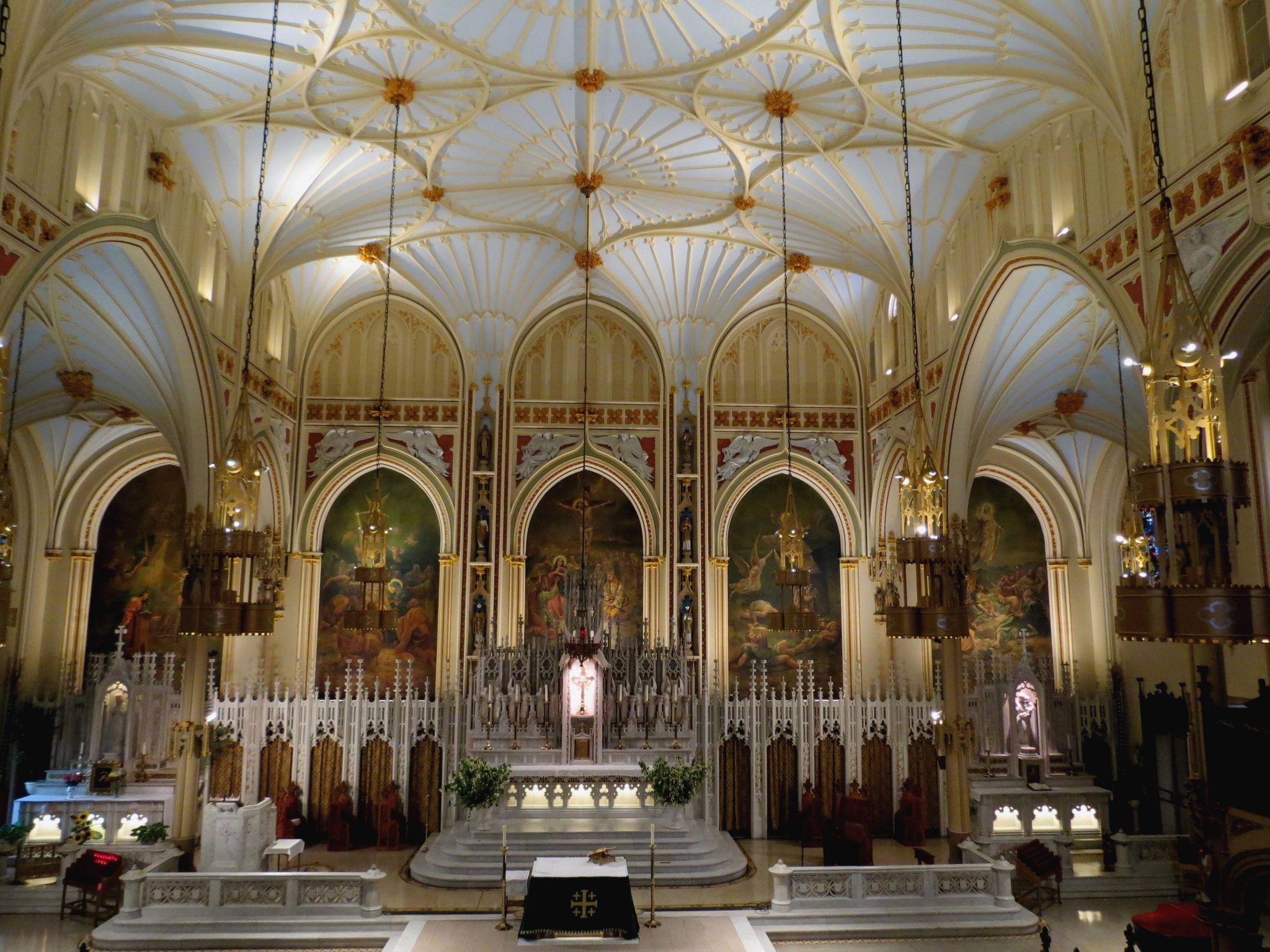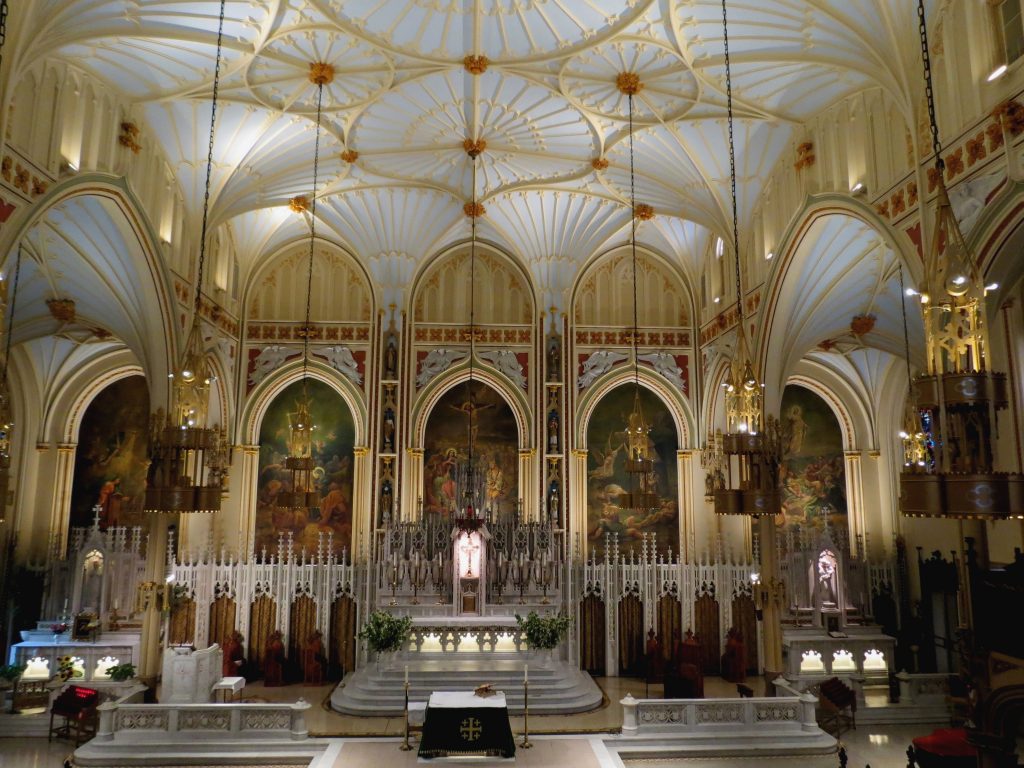 Egan Church Restorations were hired by Our Lady of Good Counsel Parish in Manhattan, NY to repair church plaster and repaint the interior of the church for their upcoming 100th anniversary. During our initial meeting, Bob Egan offered our Liturgical Designer to help develop new color schemes to make the sanctuary more prayerful and to brighten up the entire church.
Our designer met with the pastor and building committee and suggested a number of simple color changes to completely change the feeling inside the church. 1) lighten the colors on the ceilings. Lighter colors helped reflect light back down to the pews to help with reading prayer books. 2). Add similar color but in darker shades on the ceiling ribs to highlight the beautiful architecture. 3) Eliminate the strong green colors on the upper and lower walls an use a soft beige with gold highlights and 4) Add gold highlights on the rosettes and columns.
Let our team of expert church renovation specialists and liturgical designers, help you restore your church.
Contact us for a free quote and consultation. 800 484 1874