Replacement Stained Glass Window Frame. "Super Energy Saving Design"

Replacement stained glass window frame from Egan's and our stained glass studio, Bovard Stained Glass Studio, are made to meet the new standards as set by the Stained Glass Association of America that requires "venting" of the space between the stained glass and the Insulated Glass Unit ( IG unit). Bovard Studio designed and patented an internal venting system that is the most energy efficient frame available in the US.
| | |
| --- | --- |
| | |
| Before: Old damaged wood frames. | New "energy saving frames" waiting to be installed. |
Old damaged wood stained glass windows at Our Lady of Lourdes Church had been leaking for years. In addition, old age had caused the stained glass to develop bulges and stress cracks in the glass, which needed to be repaired. Egan Church Restorations and our stained glass studio, Bovard Stained Glass studied the current conditions and advised the pastor that repairing the wood frames, would cost noticeably more than complete replacement.
New Stained Glass Window Frames with "patented internal venting system" built into our replacement frames.
Our stained glass studio has patented a new replacement window frame for stained glass with insulated glass. NO other studio can offer this patented design! Our design provides an Insulated Glass Unit as protective coverings but unique to this frame is our "internal venting system" to cool the stained glass. This internal venting system uses the air from inside the church to circulate between the stained glass and the Insulated Glass Unit ( IG ). Of special note is any window on the south side of the church, this air circulation will actually be a passive solar heat gain to the sanctuary.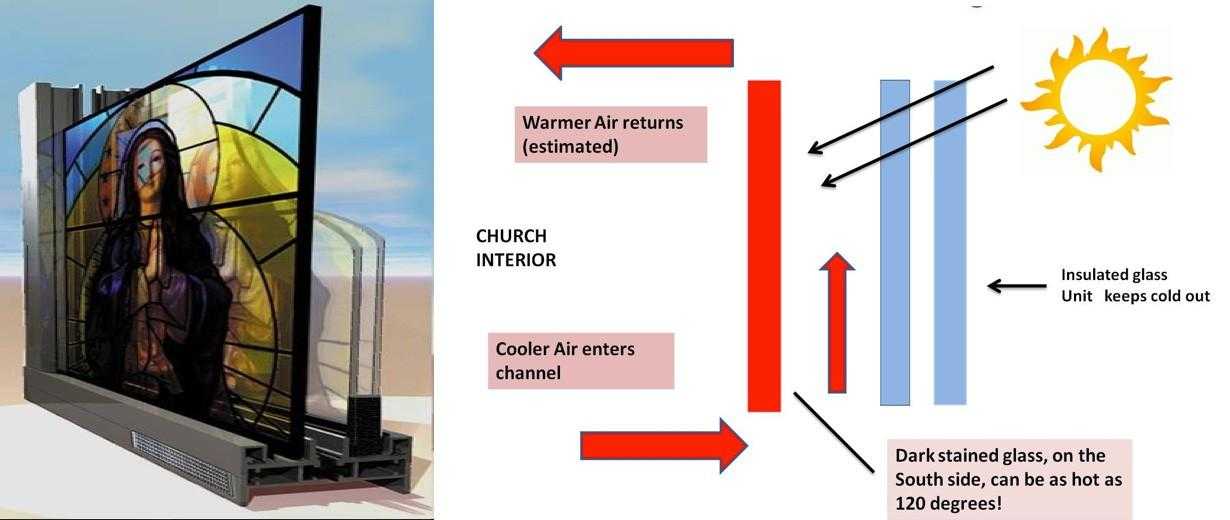 Unlike clear home or office windows, colored stained glass absorbs heat from the sun. When heated, it expands. Because there is no expansion joint in a window sash, this expanding glass has no place to expand, so it creates bulges or stress cracks.
Our patented design eliminates this expansion cycle, keeps the cold air out and returns the heated air to the interior of your site. Combined with the Insulated Glass Unit ( I G unit) on the exterior, this frame design will greatly reduce heat loss, saving thousands of dollars in heating costs.
New Stained Glass Window Frames can save some churches 25% Annually since replacing their frames!


Energy Saving Protective Covering Glass
Using the same concept of an internal venting system in our new window frames we have also created an easy to install, internally vented protective covering system with Insulated Glass for replacement protective coverings. If your existing frames are in good condition and don't need to be replaced, our new protective covering system can be installed on the exterior of the wood frame.
St John's Episcopal Church. Oneida, NY Recently installed our Insulated Glass Protective Covering System to cut their heat loss carbon footprint.
First Unitarian Church. Ithaca, NY. First Unitarian property committee needed to repair their damaged wood stained glass window frames during a recent renovation. They requested we provide a quote "for a Green Solution" that would help cut their carbon footprint. As well as being good stewards of their church from a environmental stand point, they cut their heating costs dramatically.