Pew refinishing at St Mary's Episcopal, Portsmouth, RI.
Pew refinishing was completed by Egan Church Restorations during the interior renovation of St Mary's Epis. Church in Portsmouth, RI Our team of woodworkers were asked to repair a number of pews and then refinish them as part of an overall interior renovation.. We also removed several pews from the center of the church to allow for a cross aisle for better communion distribution.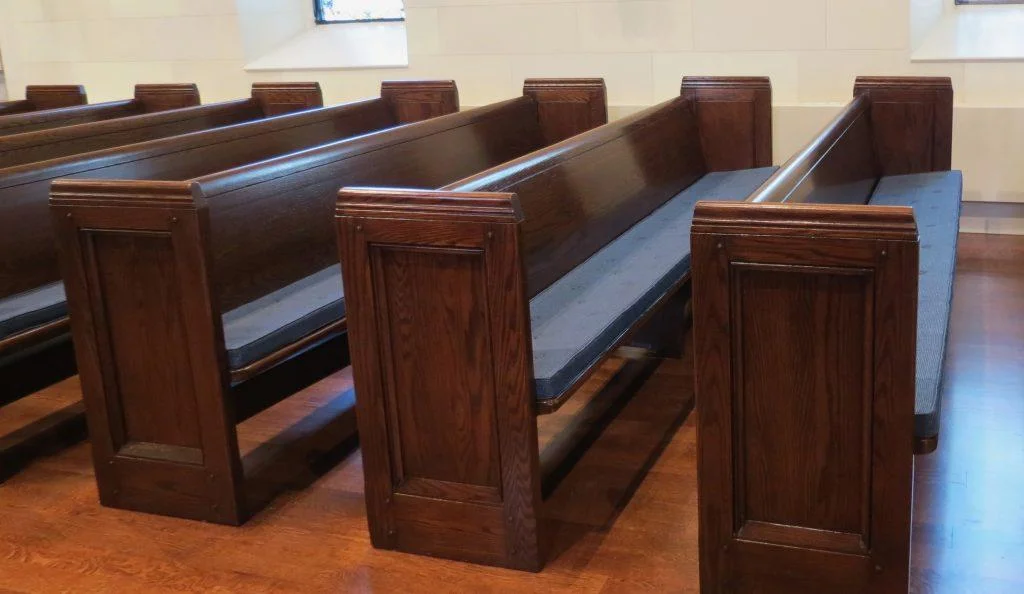 St Mary's Episcopal Church in Portsmouth, RI, a landmarked historic site was undertaking a complete interior renovation of their beautiful church. Egan Church Restorations were chosen for several critical aspects of the renovations. They included extensive plaster repair, decorative "faux stone painting", marble memorial cleaning, wood door refinishing and pew refinishing. Our team removed all the solid oak pews to our shop and proceeded to sand all the pews to prepare them for a new finish. The kneeler pads were removed and disposed as well as the old pew cushions. We then applied a new coat of stain, and then applied 2 coats of polyurethane to seal the stain. New kneeler pads were installed and new pew cushions.
Do You Have A Church Painting or Plaster Repair Project?
Call (800) 484-1874 or contact us online for a free consultation and quote.