Church stained glass window protective coverings replacement.
Church stained glass window protective coverings or as some people call them, protective glass, is an important feature to protect your valuable stained glass windows from storms and vandals. However, it they are installed incorrectly, like many were in the 1970's with the old lexan, they can trap heat which causes bulges in the stained glass ( from expansion when warm ) and frame rot from moisture buildup.
"All stained glass, when covered by protective coverings, must have a ventilation system ( air channels) to prevent premature damage to the stained glass". 1996 National Preservation Society Study.
Church stained glass window protective covering replacement. St Luke's Episcopal Church, East Greenwich, RI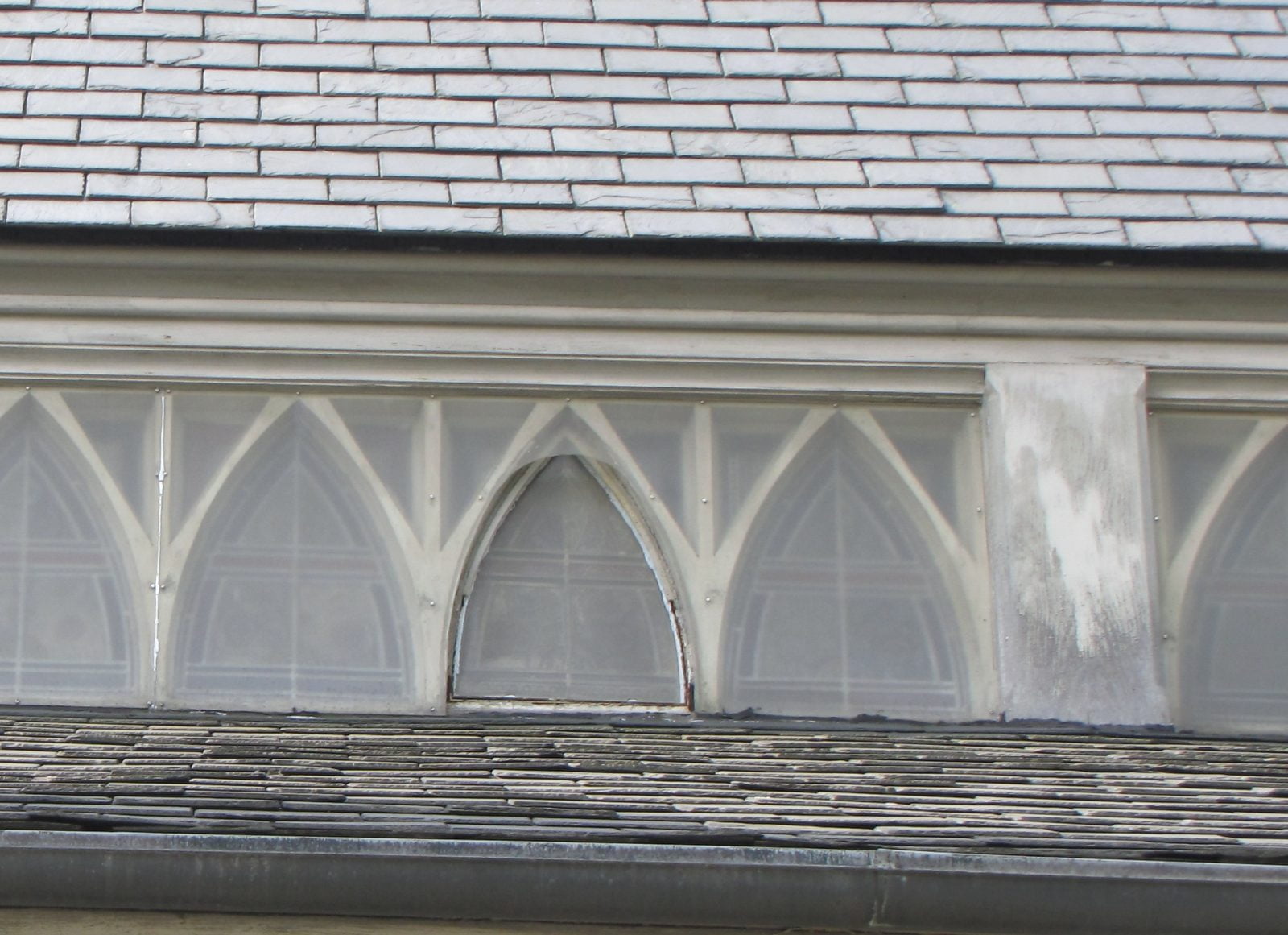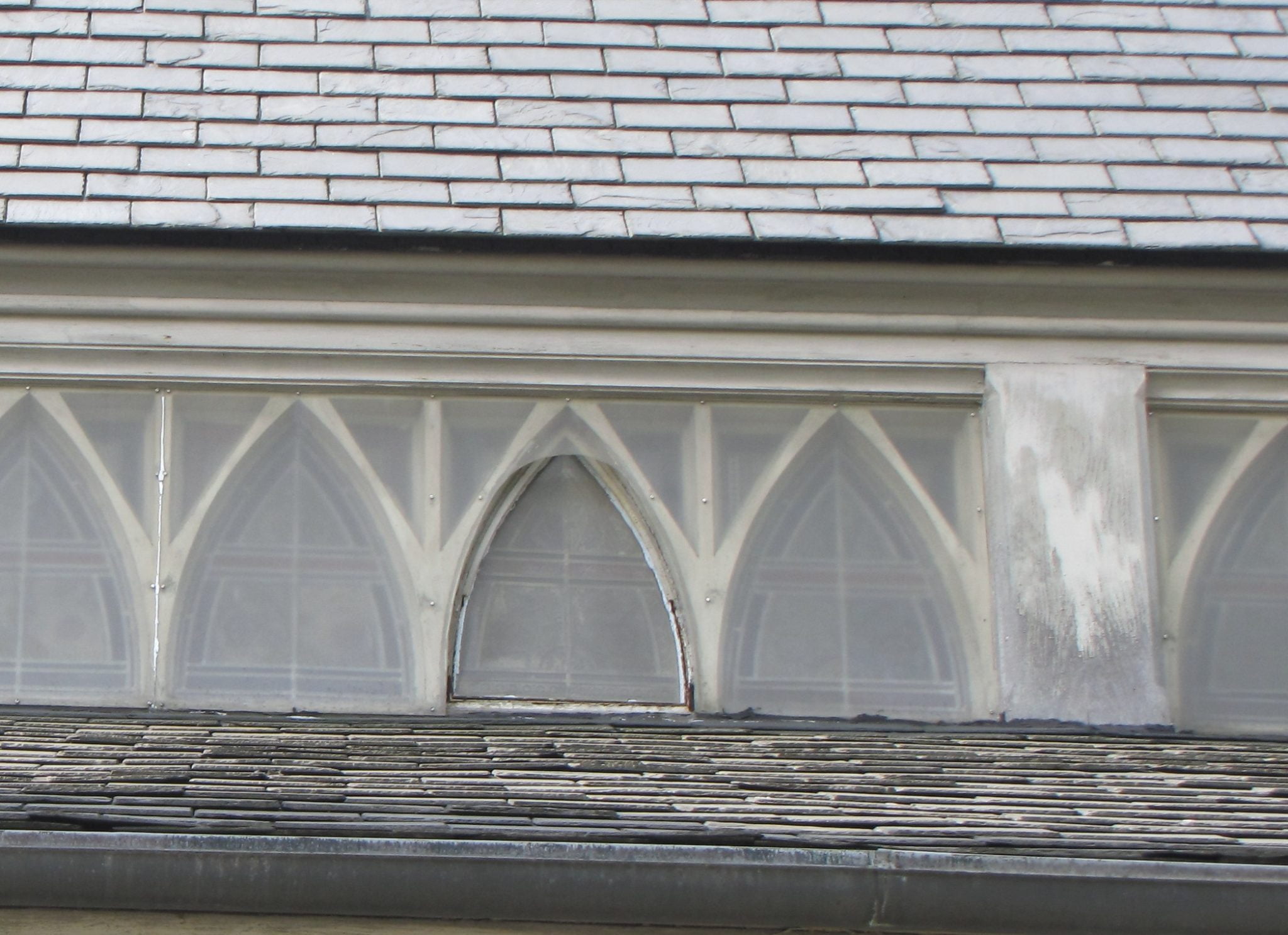 Before: Old lexan was damaging the stained glass and rotting the wood frames.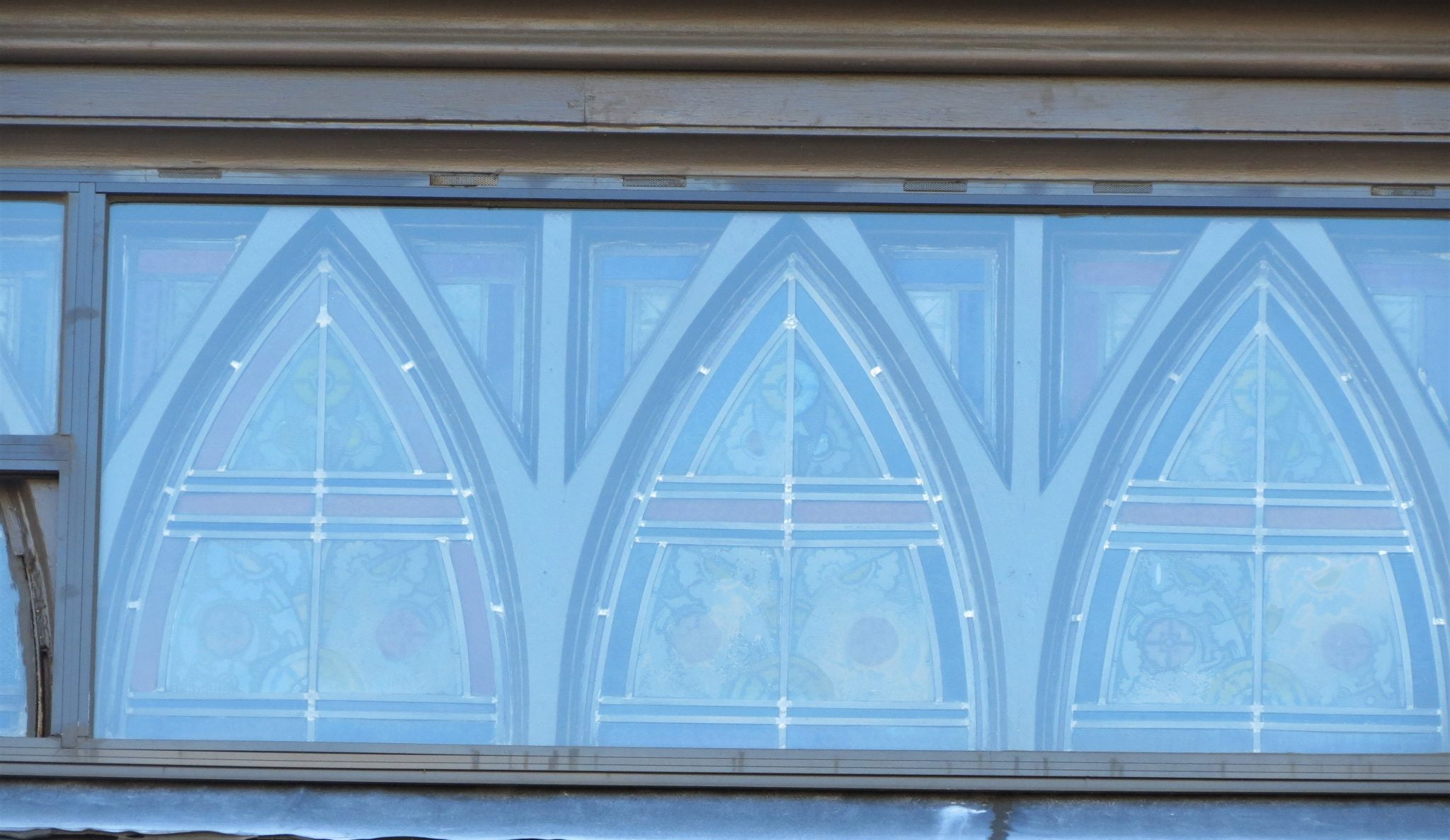 After: Old lexan was removed, wood frames repaired and repainted and new vented protective coverings installed.
Egan Church Restorations and our studio, Bovard Stained Glass were hired to help St Luke's Episcopal Church preserve their stained glass windows. The first step was removal of the old, incorrectly installed protective glass that was causing the windows to bulge from the heat build up. We removed the old lexan and spot repaired wood rot in several sills. We then repainted the entire frame.
We then installed Bovard Studio's patented perimeter framing system with built in air channels. Several openings at the bottom, several at the top to insure the hot air can escape and a natural air flow from ordinary convection. We then spot repaired the ventilators to be sure they would open and close properly before adding protective glass over the vents.
Church stained glass window protective coverings, if not installed correctly, can cause significant damage to both your stained glass windows and window frames. Without air channels ( venting ) the stained glass may overheat and over expand ( unlike clear glass, colored stained glass absorbs heat and expands.) Because there are no expansion joints in the frame, the overheated glass has no place to go and will bulge or crack. Without air channels, moisture gets trapped between layers of glass. This moisture will then oxidize the lead in the window design, rot the wood in the frame and rust the steel ventilators. All of these issues will result in needing to restore your windows 50% sooner than you should have to.
We offer a patented perimeter framing system with built in air channels to properly vent the space between layers. Several openings at the bottom and several openings at the bottom will allow a natural "convection" of the air with cool air entering at the bottom and the heat escaping at the top. In addition, our structural engineer will calculate the proper number of openings so larger windows will have the proper amount of air circulation. 2 square inches of venting area for every 16 sq. ft of glass space is the proper calculation.
Our patented perimeter framing has another major advantage over the local small stained glass studio in that we can use any type of replacement protective glass that best suits your church. ¼ inch thick laminated glass is the most popular for average church neighborhoods, but we can also install ¼ in thick tempered glass if the church is next to a school yard where errant baseballs are common, or if the church is on the ocean. We also offer ¼ in lexan and ¼ in plexiglass which are very tough and good for high crime areas, but these materials will eventually discolor.