Church pews and chapel chairs .
Church pews and chapel chairs were installed by Egan Church Restorations during the building of the new St Bernard Church in North Kingstown, RI. Our woodwork shop fabricated all new solid red oak pews for their new church building project and installed them. With a "pie shaped" nave, we fabricated new curved pews to fit the church design. Working closely with the pastor, architect and the parish building committee we helped supply beautiful new pews with flip up kneelers for the new church.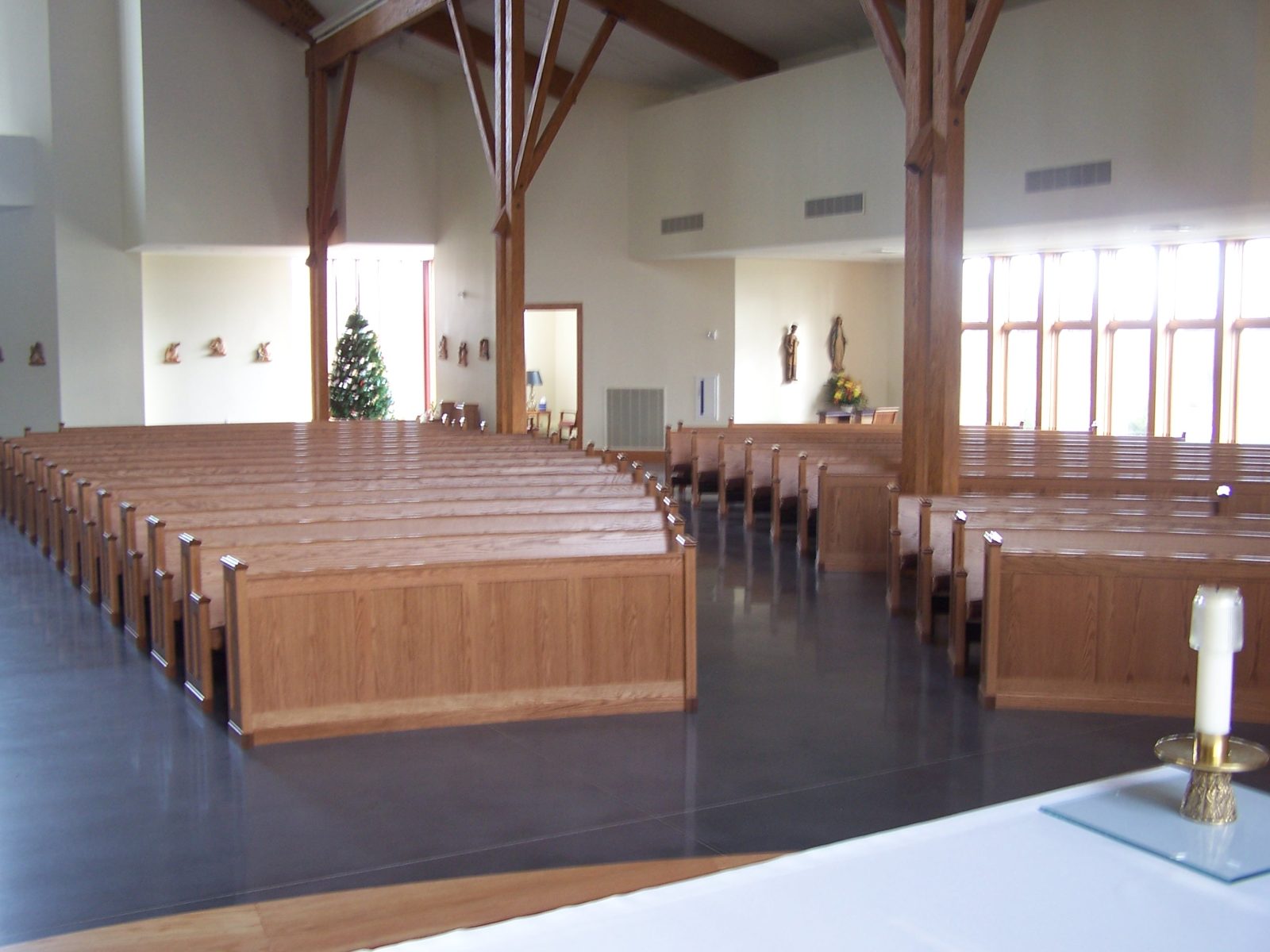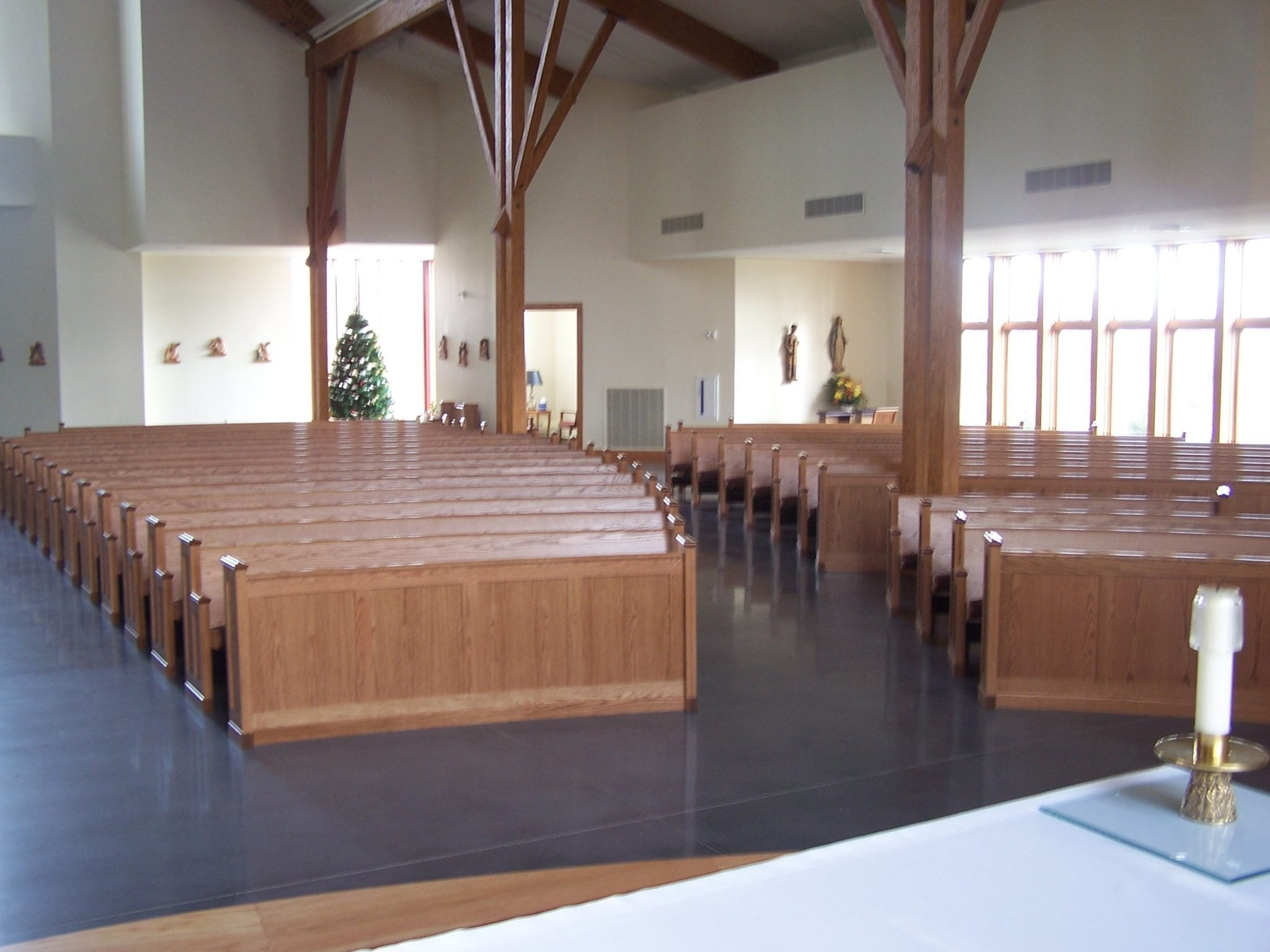 Solid oak pews and chairs installed in St Bernard Church
Church pews installed at St. Bernard Church, North Kingstown, RI
Egan Church Restorations and our woodwork shop were hired to help St Bernard Church renovate their church. All new solid oak pews, church chairs, were all fabricated and installed.
All church pew projects start with extensive conversations with the client to understand their needs for their worship site. A pew design for one church may look beautiful in their location, but may not be functional or look out of place at another church or temple. Choosing the basic structure of the pew is the first decision to be made. Would straight, traditional style pews be the best or would mitered pews work better. Next, we need to determine if you wish to have all solid wood pew seats and backs of some type of either seat cushion or seat cushion and back cushion. Next, we need to choose a pew end that matches your building style. Colonial, traditional, contemporary or modern, the ends need to match the architecture for a visually pleasing look. Lastly, stain finishes and fabrics need to chosen.
Church pew styles
First, choose the shape of your pew – straight or mitered
| | |
| --- | --- |
| | |
| Traditional Straight Pews | Mitered Pews. |
Church pew shape is the first decision to be made.
Church pews are about 85% straight but it all depends on the design your architect has planned. Straight pews work well with a traditional "cross shaped" building, but mitered pews also work well when the building is "pie shaped" or perhaps you are retro fitting an old gothic building to a new interior layout. Choose your style carefully so your congregation will have a good sight line to the altar area.
Church pew body styles
| | | |
| --- | --- | --- |
| | | |
| Solid wood seat and back | Cushion seat with wood back | Cushion seat with cushion back |
Choosing the type of pew body is next.
Solid wood or cushions, many times the decision is simply based on the average length of your services. Solid wood pews have a contoured seat for comfort and a slightly angled back so they are far more comfortable for an average length service than the old pews in historic churches. Solid wood also has fewer maintenance issues.
Cushion seat or cushion seat with cushion back are very comfortable and if your services are longer, your congregation will appreciate the comfort. However, all fabrics wear under normal use and the fabric will probably need re-upholstery after about 25 years.
Church pew end styles
| | | |
| --- | --- | --- |
| | | |
| Pew end # 100 | Pew end # 101 | Pew end # 109 |
| | | |
| Pew end # 113 | Pew end # 110 | Pew end # 114 |
Above are just 6 of our many pew end styles. Choosing a style end is a visual issue rather than a structural issue. The end should match the general style of your worship site. Colonial, traditional, contemporary or modern, we can match whatever you need.
Church pews can be a standard model from our catalog or they can be custom made to fit your church. Contact us using the button below to get more information or a free quote.