LeFarge Stained Glass Restoration for St Luke's Episcopal in East Greenwich, RI
Lefarge stained glass restoration requires an entirely different level of skill and experience. Unfortunately, after vandals threw a candlestick through St Luke's Episcopal Church's priceless John LeFarge stained glass window, a less skilled studio was hired to make the repairs. Lacking the proper understanding of "Art Preservation" they chose to change the design of the window from a multiple layered window to a simple single layer of glass and then painted the design they felt appropriate.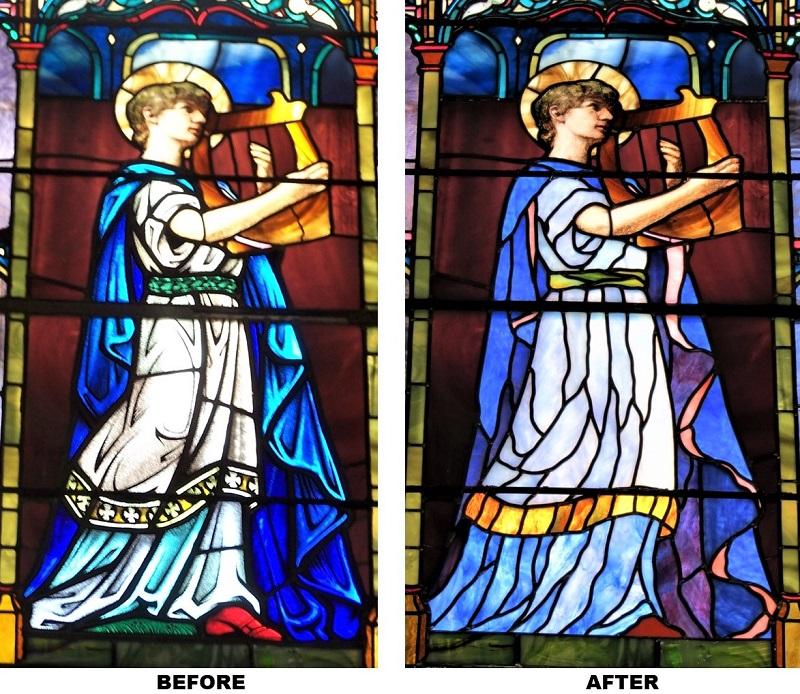 Egan's Church Restorations and our stained glass studio, Bovard Stained Glass, were chosen to help restore this priceless work of art in glass, to it's original design and beauty. The previous repair had removed the beautiful "opalescent glass", plated as deep as 3 layers by John LeFarge, and replaced it with a single layer of painted glass. Altering a historic stained glass window is comparable to altering the "Mona Lisa" painting. It simply is not appropriate for stained glass preservation.
Recreating John LeFarge's original design.
Using old photographs of the window prior to the vandal damage, our team of stained glass preservationists re-created the opalescent glass and cut the pieces to shape. We then re-created the multiple layers of plating to restore the depth of color as the original. Unfortunately, due to the previous alterations, the window can no longer be called "An original John LeFarge Window" but we are glad to have been able to at least restore the window to it's original beauty.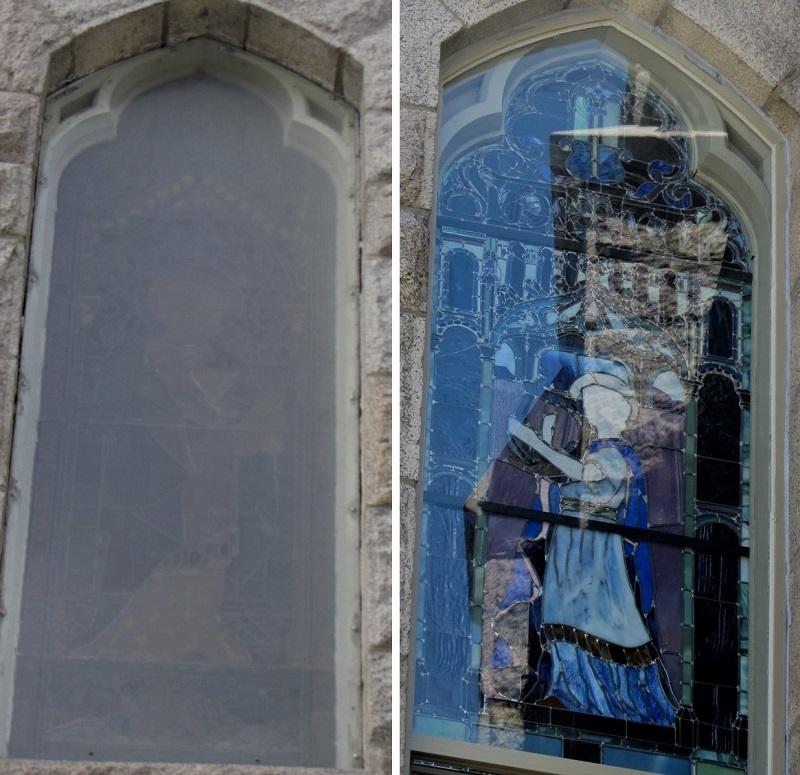 New Stained Glass Protective Coverings for a priceless work of art, requires more than simply screwing a thin sheet of protective coverings material to the wood frame as someone did back with the previous repair. Our team of window frame repair specialists, removed the old, poorly installed protective covering materials and repaired the wood frame.
After repainting the wood frame, we then installed the Bovard Stained Glass Studio's patented perimeter framing system with built in vents. We then installed 1/4 in thick tempered glass, the strongest possible protective glass. This new protective covering was certified to withstand up to 120 mph winds.
Do You Have Stained Glass Repair or Window Frame Repair Project?
Call (800) 484-1874 or contact us online for a free consultation and quote.