Church plaster repair, Repainting and adding decorative finishes to St John's in Middletown, Ct
Church plaster repair is usually the first step to any church painting project Egan Church Restorations were hired by St John's Church in Middletown, Ct to help them undertake repainting the inside of historic St John's Church. The property committee and the pastor requested we offer liturgical designs to change the look from simple paint finishes to decorative finishes. We suggested they make several changes to highlight the beauty of the architecture and offer a more "prayerful feeling".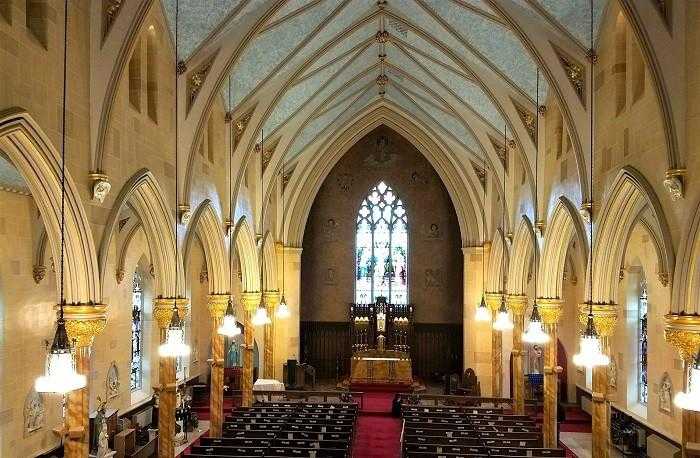 Egan's Church Restorations liturgical designer presented several design concepts and the parish chose to move forward. The new design included adding "rag roll" finishes to the upper and lower ceilings. "Faux stone" finishes were added to the walls and "faux marble" painting on the columns with colors to match the existing marble altar. In addition we cast completely new capitols to replace the old plain capitols to add elegance to the sanctuary. The new capitols were then painted with gold highlights to compliment the faux marble finish on the columns.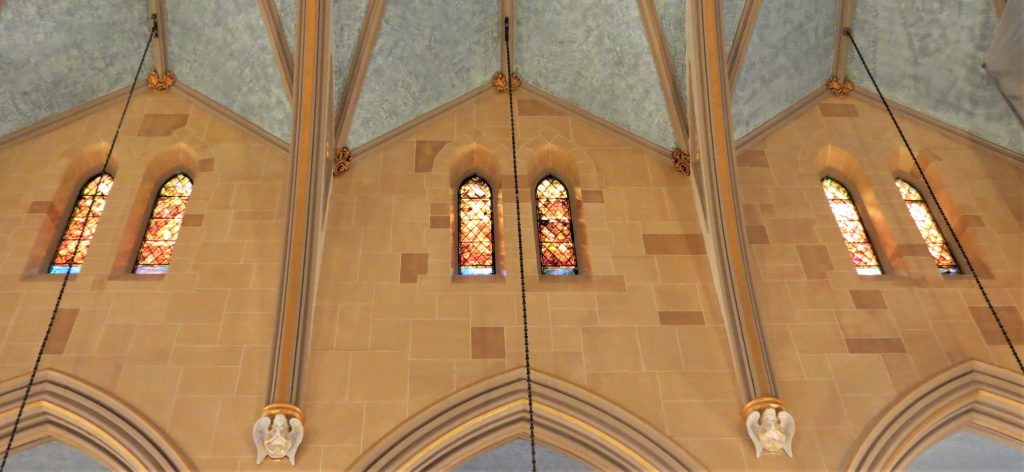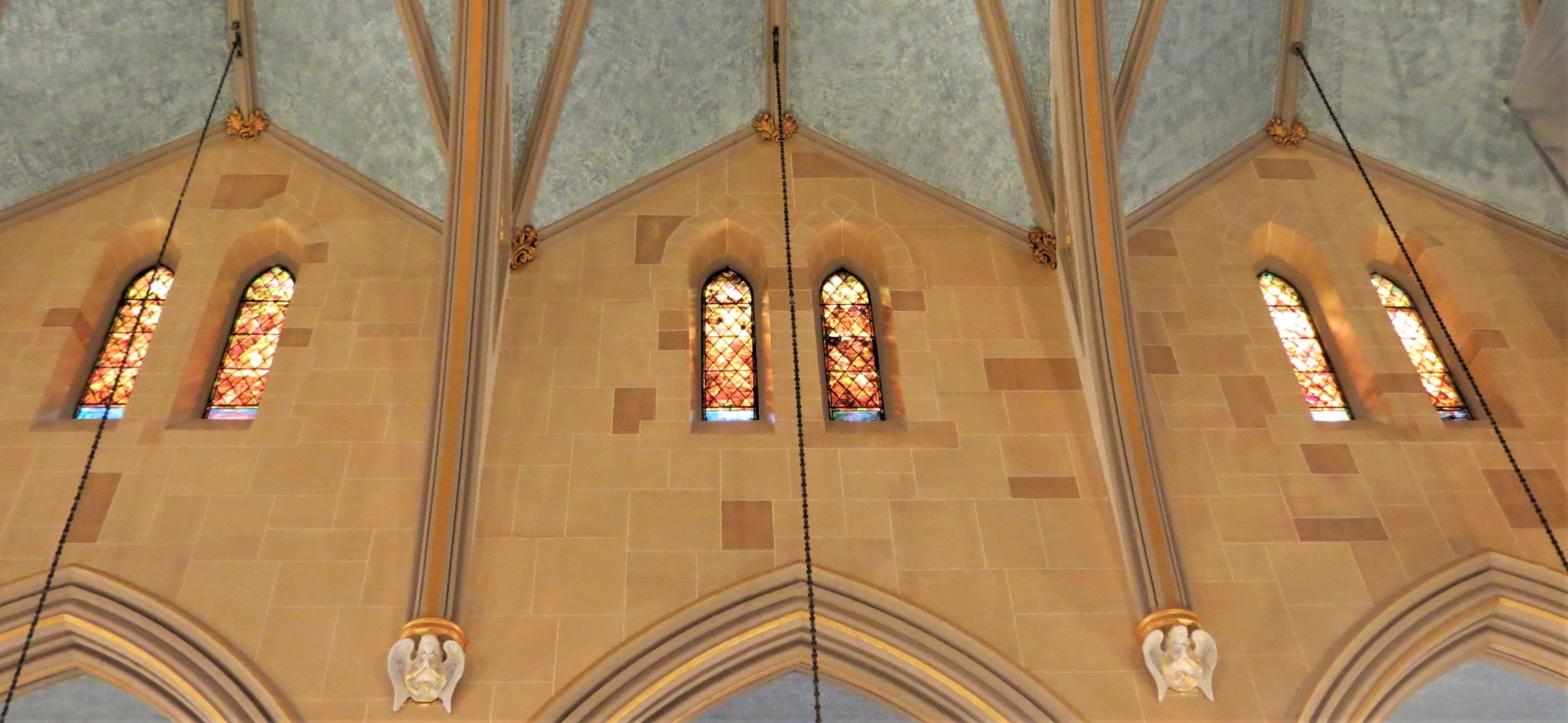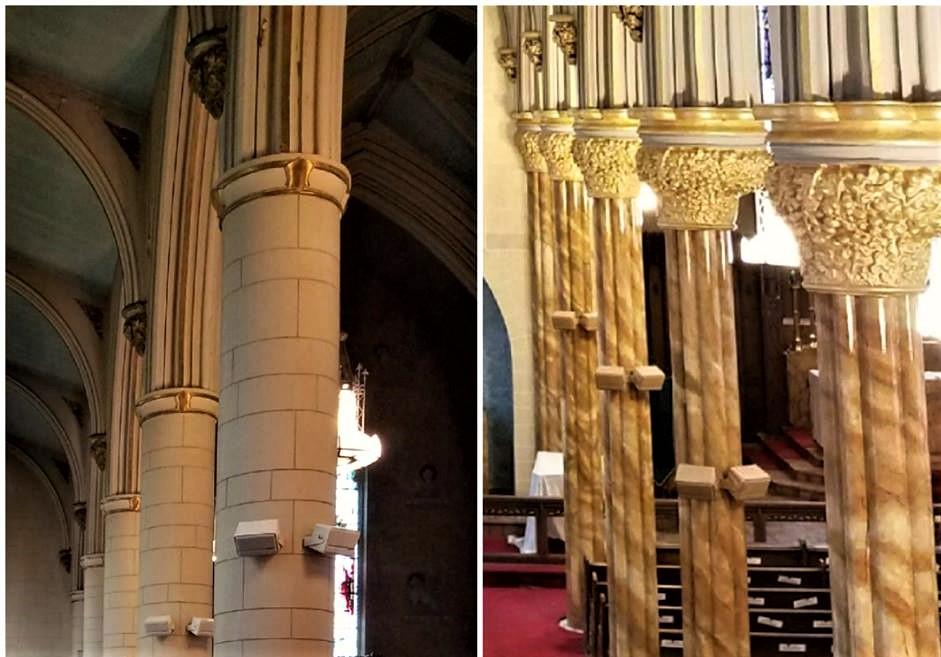 Church plaster repair
Generally there are 2 reasons for plaster damage in an old church. Water damage from leaks or simple old age. Regardless of the cause, we follow all preservation guidelines and try to save existing materials if at all possible. We never suggest using sheetrock to replace original plaster walls.
Church plaster repair – water damage
Water damage to plaster has to be carefully reviewed to determine the correct repair steps. If the plaster has become "mushy" it probably will need to be removed and new plaster added. If it is just lightly stained and stable, it can simply be sanded and painted with "kilz" to eliminate the stain.
To replace the mushy or soft plaster, our team will remove as much of the soft plaster as we can without disturbing the surrounding undamaged plaster. After removal, we inspect the wood lathes to be certain they are secure and ready to accept the new plaster. We then attach a wire mesh to the wood lathes to give us a base to attach the new plaster to. We then add new plaster in multiple, thin layers to match the thickness of the existing plaster. We then sand and prepare for a primer coat of paint.
Church plaster repair – cracks
Cracks in plaster are a normal part of "old age" in the plaster. Like all materials, plaster expands and contracts with heat and cold. This expansion/contraction process over decades, eventually weakens the plaster which leads to the cracks.
Repairing cracks is a simple but time consuming process. First we must clean out the crack to remove any loose plaster. We use a utility knife and scrape the loose plaster until we get a firm edge. We then add joint filler to fill in the crack. For wide cracks, we apply joint compound and then fiberglass tape over the crack. After it dries, we sand to a smooth surface and apply a coat of primer paint.
Do You Have A Church Painting or Plaster Repair Project?
Call (800) 484-1874 or contact us online for a free consultation and quote.