Stained glass window repair. New energy saving "Thermo Barrier" window frames.
Egan Church Restorations and our stained glass studio, Bovard Stained Glass helped Our Lady of Victory in Floral Park, NY to restore their stained glass windows and update their stained glass window frames to new "super energy saving" thermo barrier window frames with insulated glass..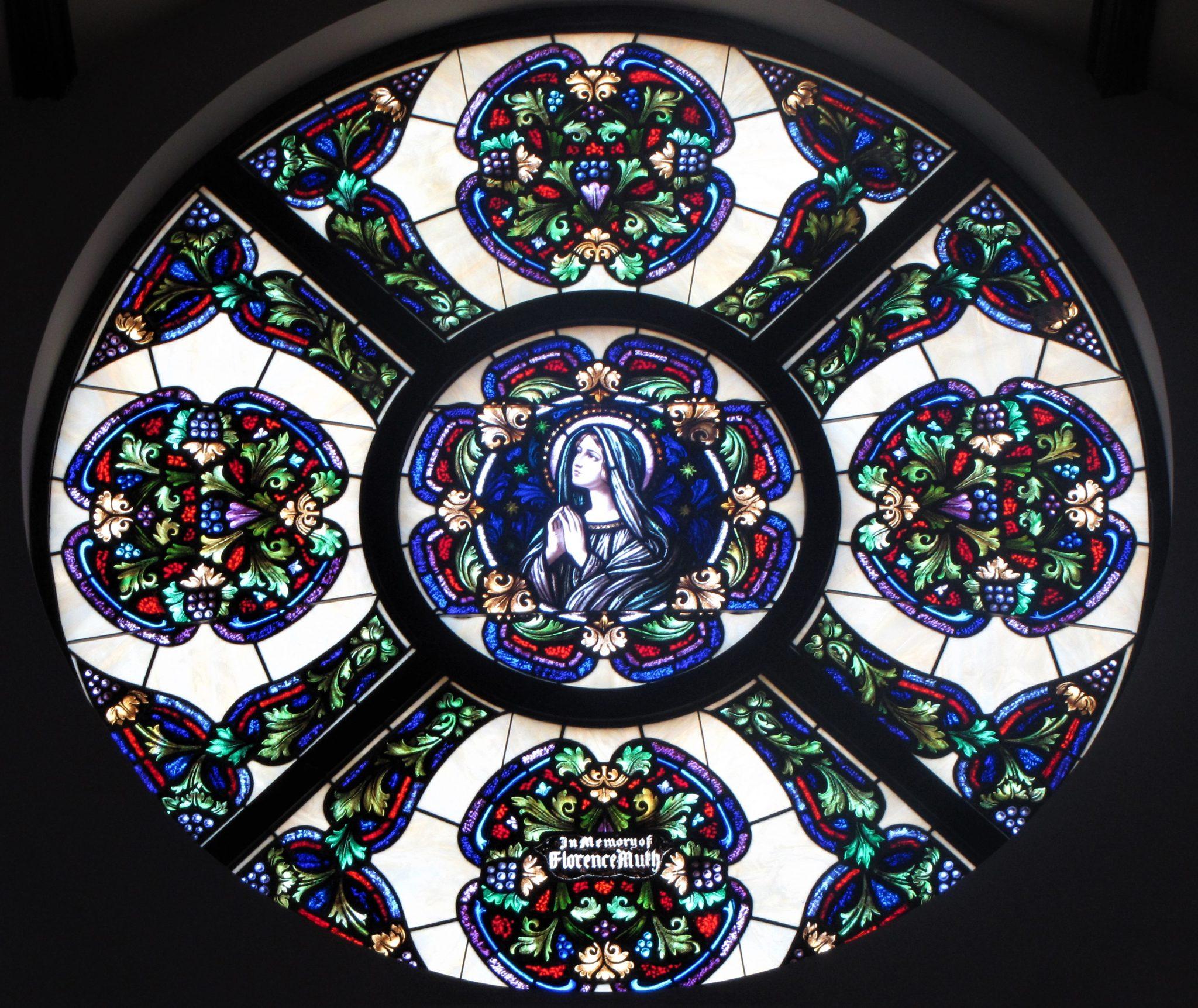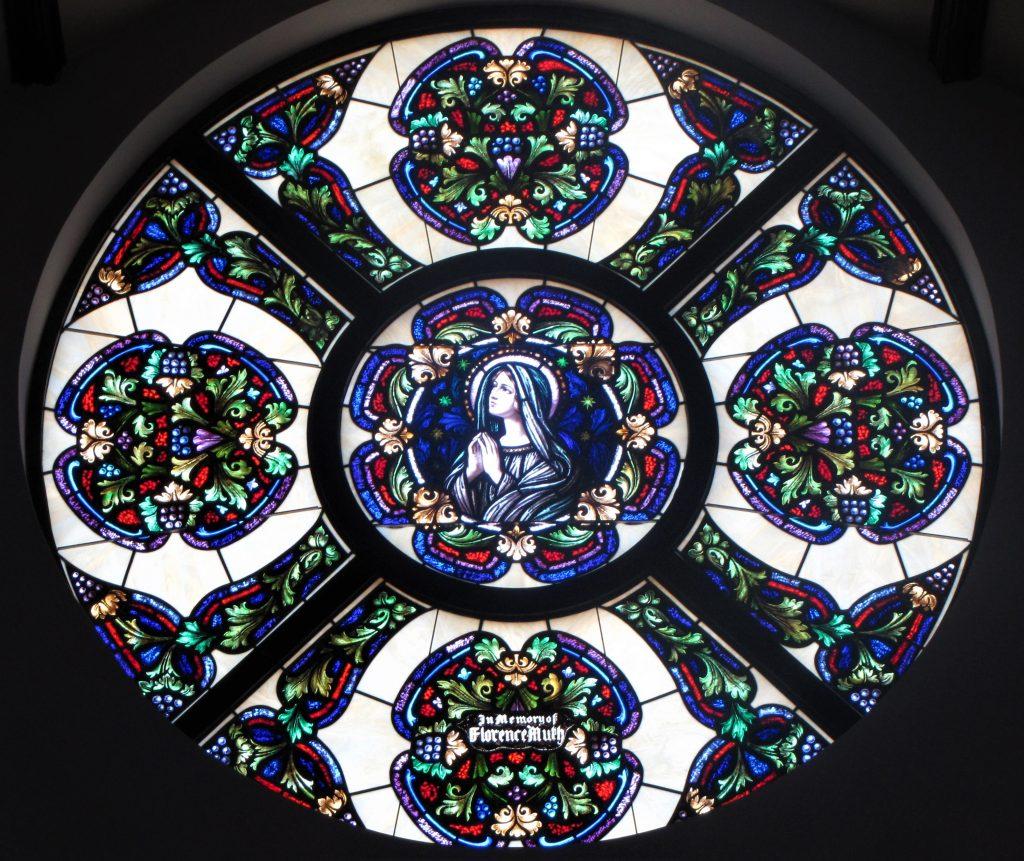 The National Preservation Society has determined that "all stained glass, when covered by either a single layer or double layer of protective coverings, MUST have a ventilation system to prevent heat build up in the stained glass and to prevent moisture build up between layers of glass."
To meet this requirement when using Insulated Glass Units ( IG Unit) in our stained glass protective covering system, we created an internal venting system to block the cold air and saving as much heat as possible.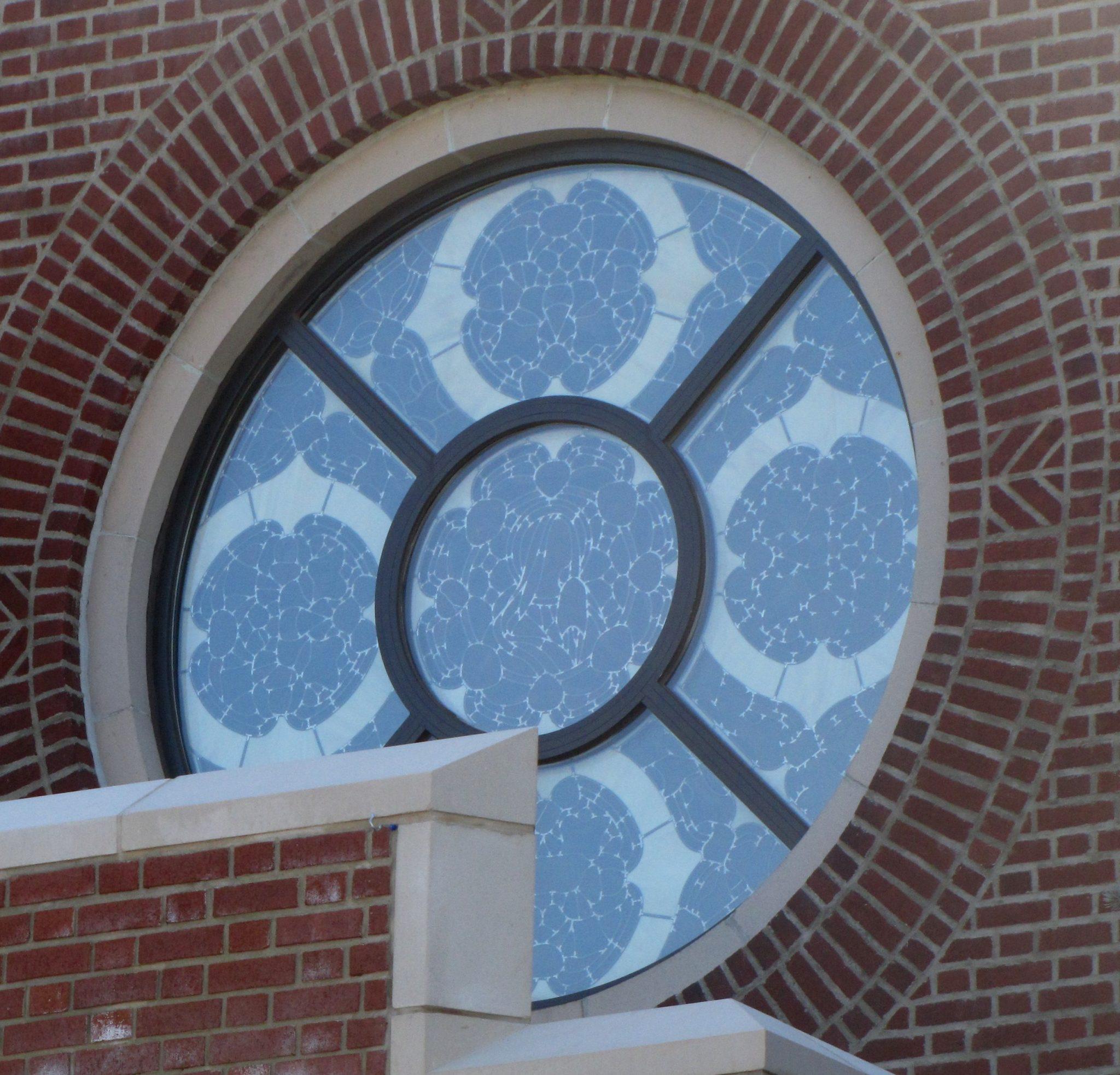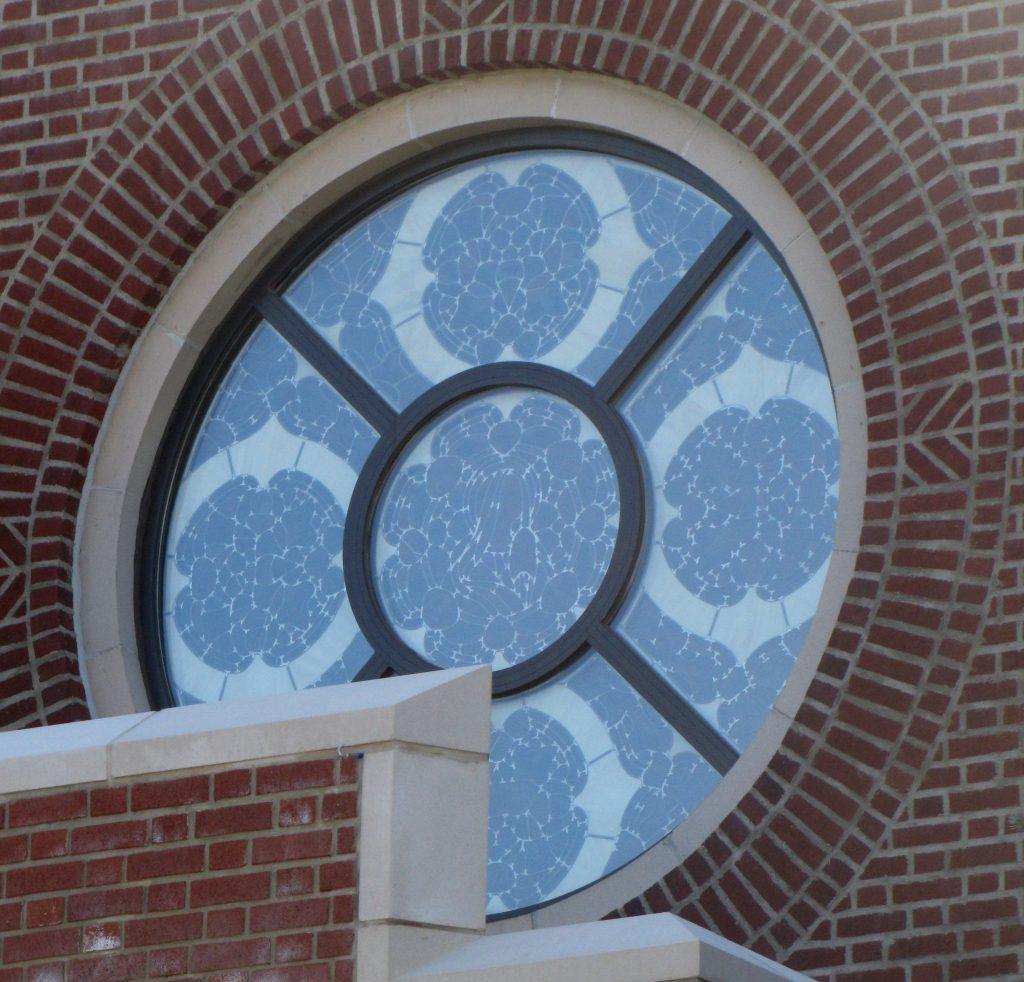 Stained glass window, self contained light boxes.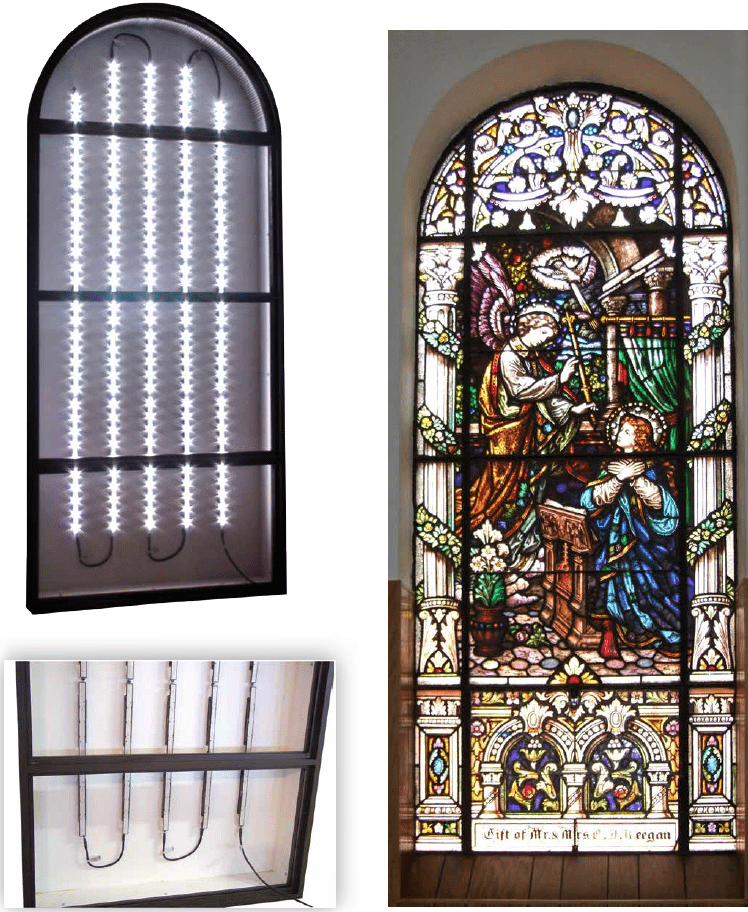 Bovard Stained Glass Studio has designed and installed many variations of our self contained stained glass window light boxes. Windows from closed sites can be reused without a major construction project with our easy to install light boxes.
Made of either aluminum or wood to match your other window frames, the light boxes have LED lights (low heat, lone durability) with a diffuser panel ( to avoid "hot spots" in the amount of light behind the glass) and a hinged front facing door for easy maintenance.
Our patented "internal venting system" provides a 1 inch thick "Insulated Glass Unit " ( IG Unit) with vent openings to the interior of the church. Cold exterior air is blocked and moderate temperature internal air is used to cool the stained glass.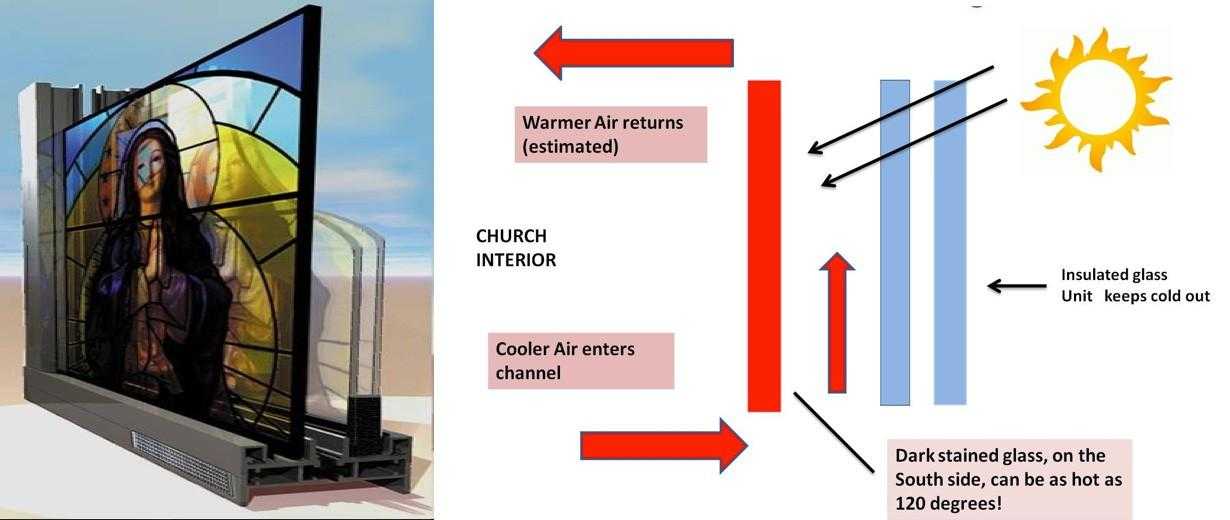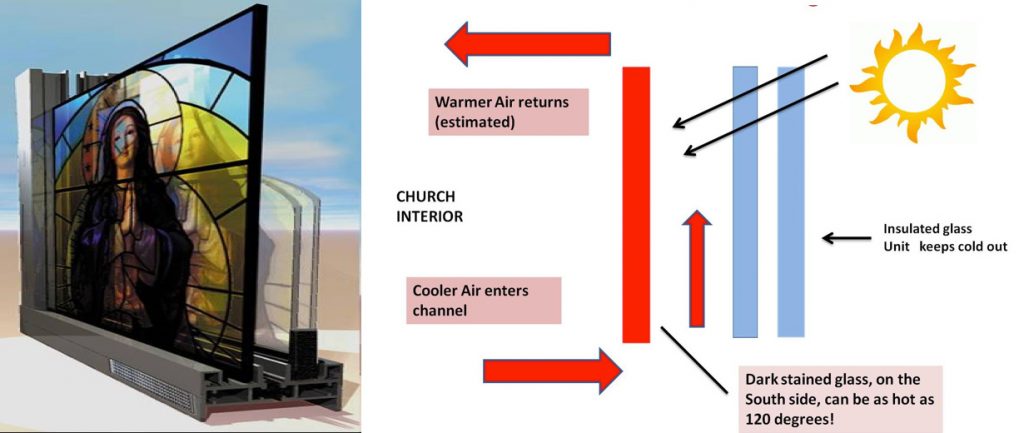 Did you know, repairing a wood frame may be more expensive than replacing the entire frame with our "super energy saving frame"?. Wood repairs are very labor intensive and need to be done on scaffolding. Sometimes parts need to be replaced and time is lost waiting for the wood shop to fabricate.
An all new aluminum frame is simple to build in the frame shop and can save thousands of dollars in costs up front and save thousands in heat savings for the life of the church.
Do You Have A Stained Glass Repair or Stained Glass Frame Repair Project?
Call (800) 484-1874 or contact us online for a free consultation and quote.