New Stained Glass Design and Fabrication.
Egan Church Restorations and our stained glass studio, Bovard Stained Glass helped create 5 new stained glass windows at Old Soldiers Home ( Vet. Hospital) in Holyoke, Ma . The hospital wanted new stained glass for the chapel to add a more prayerful atmosphere but the design had to include all denomination.. Our artists created all new stained glass windows using medallions of the 4 branches of the military as the center piece. We then added smaller medallions with the various major religion symbols..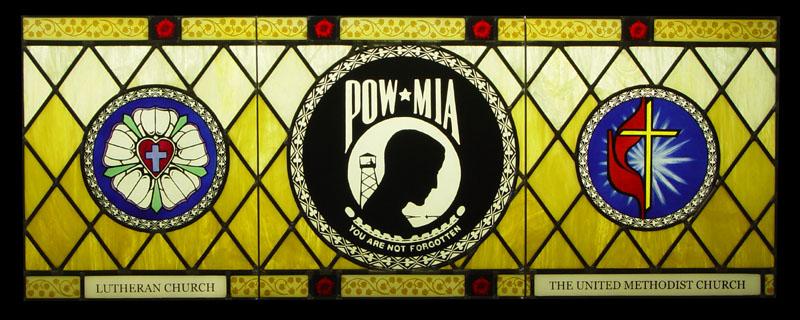 Did you know, repairing a wood frame may be more expensive than replacing the entire frame with our "super energy saving frame"?. Wood repairs are very labor intensive and need to be done on scaffolding. Sometimes parts need to be replaced and time is lost waiting for the wood shop to fabricate.
An all new aluminum frame is simple to build in the frame shop and can save thousands of dollars in costs up front and save thousands in heat savings for the life of the church.
Do You Have A Stained Glass Repair or Stained Glass Frame Repair Project?
Call (800) 484-1874 or contact us online for a free consultation and quote.